Morrison's share price remains range-bound as the expected buyout of the company appears to be heading for a potential auction-style finish. The takeover process of Morrison's supermarket chain has spurred a considerable advance in Morrison's share price, as two American companies do battle to win the bragging rights for the supermarket chain.
Softbank-owned Fortress Investment Group appeared to be the frontrunner to take over the Morrison's chain before a rival consortium stepped up with a higher bid to emerge as the frontrunner in the buyout race.
On Tuesday, Clayton Dubilier & Rice announced it had reached a settlement with the company's pension trustees to provide additional support to the pension schemes ahead of the vote by shareholders to ratify its preferred bid to buy out the supermarket chain. CD&R placed a higher bid ahead of the Fortress Investment Group in a bidding war that could go down to the wire. Shareholders are to vote on the preferred bidder in October.
Morrison's Share Price Outlook
Morrison's share price action continues to trade in a tight range after a series of "gap-and-go" moves took it from the 24 June low at 231.3 to the current levels at 291.2. The range's floor is found at the 287.6 price mark (28 October 2013 high), while the ceiling is 297.2 (17 September 2012 and 7 May 2013 highs). 297.2 remains the price to beat to send Morrison share price to new 9-year highs at 307.7.
There is also the potential for a corrective decline, considering the steepness of the price advance. In that case, we can expect the Morrison share price to test the 270.2 support initially (28 August 2018 "head") before the 257.3 (left shoulder) and 249.9 price pivots become visible for the bears. 
Morrison's Share Price (Daily)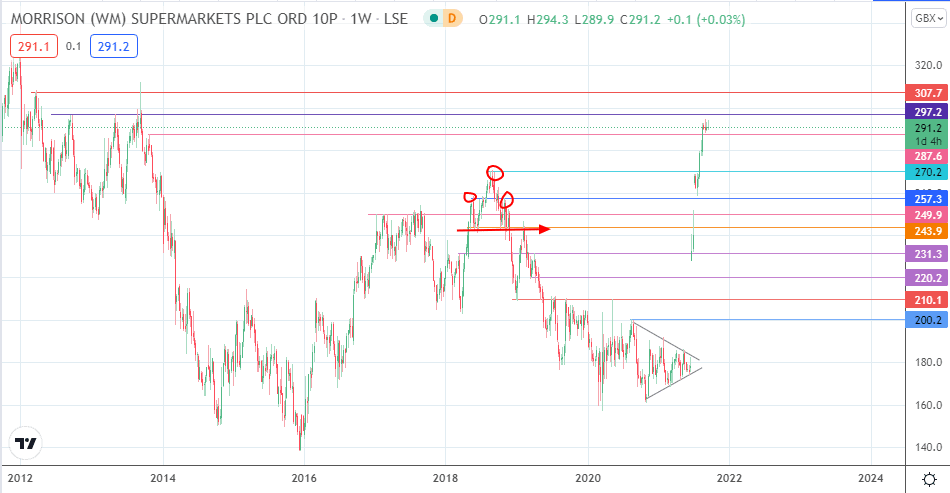 Follow Eno on Twitter.