The Marks and Spencer Group share price is down for the second day as UK supermarket chains continue to feel the pinch of changes in shopper choices and habits brought on by three-decade high inflation levels.
Last month, additional research data from NielsenQ showed that UK shoppers were spending less in supermarkets overall than a year ago when lockdown measures were in place. NielsenQ had first reported on the possibility of higher inflation impacting sales figures for the UK's biggest supermarket chains several months before.
The data showed that sales of branded groceries dropped 5.1% in the four weeks preceding 26 March. Private-label goods saw a 1.9% contraction in sales. UK inflation figures jumped to 30-year highs in February, rising to 6.2% annually. The inflation outlook is for the consumer price index to hit as high as 9% later in the year.
Nine institutional analysts have given the Marks and Spencer Group share price a 12-month target of 205.00p, representing an upside potential of 47.43% and a HOLD recommendation. This could bring some attraction to dip-buying strategies for the medium term. 
Marks and Spencer Group Share Price Outlook
Tuesday's breakdown of the 147.75 support with a closing penetration of more than 3% below that support line has opened the door for a push towards 128.35 (12 February and 22 July lows). The intraday decline is a reflection of this outlook. A further price dip sees the stock accessing potential support at 115.10 (8 April 2020/26 August 2020 highs in role reversal). If the bulls fail to defend this support, price deterioration towards 102.50 (11 September 2020 low) or 84.80 (19 May 2020 low) will be on the cards.
On the flip side, the bulls need to clear the 169.05 resistance (3 May 2020 high/4 April 2022 high) to open the door towards the 195.70 barrier (30 September 2021/5 November 2021 highs). There are additional barriers at 222.25 (28 January 2022 high) and 249.55 (22 November/8 December double top), but these are not yet within reach of the bulls.
MKS: Daily Chart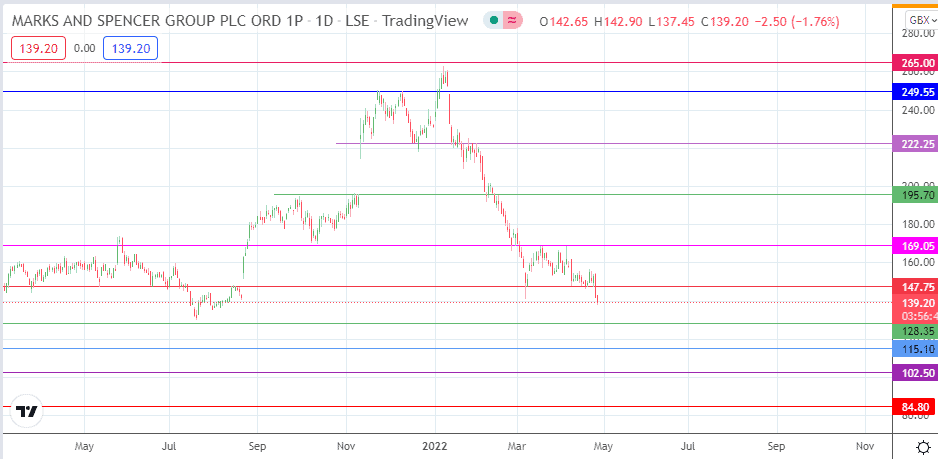 Follow Eno on Twitter.