Our Loopring price prediction provided two weeks ago on the potential outcome of the descending triangle on the LRC/USDT pair played out as expected. Price broke the triangle and touched off the projected completion point at 1.3749. 
Some expected the rumors of a potential listing of the Loopring token by Gamestop to provide bullish support for the pair. This never materialized as Loopring and several other NFT-themed tokens lost momentum and ended the week with steep drops.
Even as the Gamestop-listing rumors continue to circulate, trading app Public has listed Loopring, thus making it one of the 27 tokens to be traded on the app. Loopring's price was not impacted positively by the news; it trades 3.02% lower on the day.
Loopring Price Prediction Outlook
Following the completion of the descending triangle on the daily chart at 1.3749, the price bounced from that level and has violated the 1.6021 resistance. However, the attempted breakout has stalled due to the bearish candle of the day dipping below this price mark. If the bulls fail to uncap the 1.6021 resistance, we could see a dip towards 1.3749. This move also makes 1.0905 more visible, and this pivot becomes the next target if prices continue the dip below 1.3749.
Conversely, a successful break of 1.6021 provides clear skies to target the 1.9461 resistance. 2.2064 and 2.4613 are additional targets to the north if the advance continues. 
LRC/USDT: Daily Chart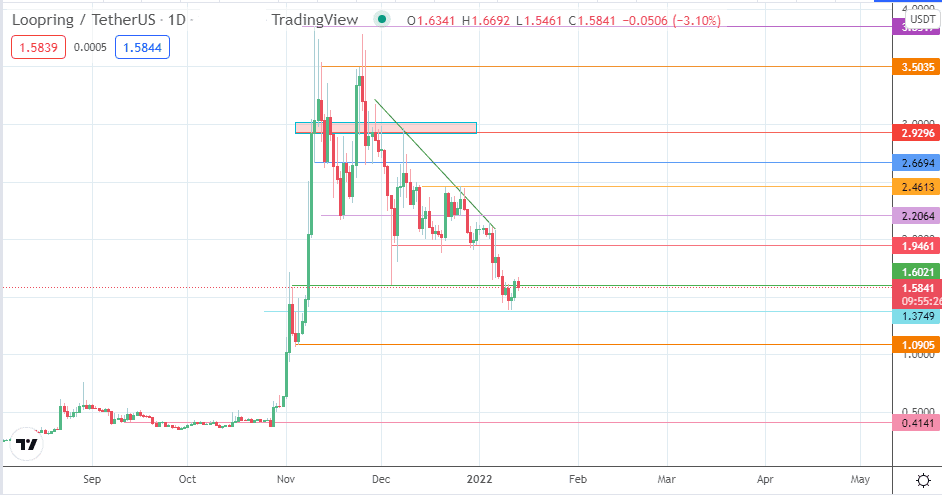 Follow Eno on Twitter.