Bearish Loopring price predictions have started to take shape after today's upside move suffered from a lack of conviction on the part of the bulls.
Loopring rose nearly 19% on Tuesday after Loopring's L2 Counterfactual wallet launch. This wallet allows users access to the Layer-2 scale, with the advantage of lower gas fees and a faster speed for transactions. This development sparked rumours of a partnership between GameStop, one of 2021's meme tokens and Loopring.
According to the rumours, the partnership is supposed to deliver a platform for GameStop to launch NFT-related products. However, this is yet to get solid confirmation and the bullishly expectant market is starting to lose interest.
Loopring Price Prediction
The bounce on the 2.2064 support may not have put a dampener on bearish Loopring price predictions, as the descending trendline, which showcases progressively lower highs on the daily chart, indicates weakening bullish momentum. A breakdown of this support puts the LRC/USDT pair on the path towards the support zone between 1.7914 and 2.0048. Only when this zone gives way can 1.6021 and 1.0905 become viable targets to the south.
On the other hand, if the bulls can force a bounce off 2.2064, which breaks the descending trendline and closes above the 2.500 price mark (12 December high), then 2.6694 becomes an achievable target. Beyond this level, the resistance zone with 2.9296 as its floor becomes the next target, followed by 3.5035.
Loopring: Daily Chart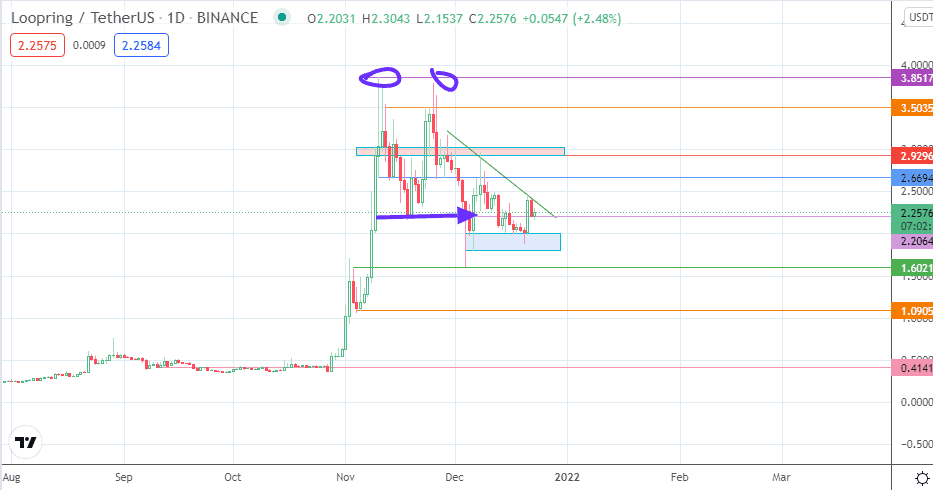 Follow Eno on Twitter.