The Lloyds share price declined further this Thursday after the UK's Omicron COVID-19 variant cases soared over the weekend. The situation has pushed back bets on a potential rate hike by the Bank of England (BoE); a depressing situation for UK banking stocks. 
Also adding to bearish pressure on the Lloyds share price this Monday is the pressure from labour unions for the bank to shift to a 4-day working week. According to the Sunday Telegraph, major labour unions Accord and Unite have asked Lloyds Banking Group to cut its work-week to 4 days as part of demands presented during wage negotiations.
Lloyds shares are down 2.07% as of writing, which has placed the stock in the 5th position among the FTSE 100's biggest losers on the day.
Lloyds Share Price Outlook
The steep decline of the day has firmly put the Lloyds share price on course to target 44.99. A breakdown of this area brings 43.85 into the picture, with 42.99 and 42.015 lining up as potential downside targets if the decline is more extensive.
On the flip side, a bounce on the 44.99 support level allows the bulls some breathing space, with 46.615 being the immediate price objective. If this resistance is uncapped, then 48.125 comes into view. 49.205 and 50.435 are strong prospects for becoming near-term price targets to the north if the advance continues.
Lloyds Banking Group: Daily Chart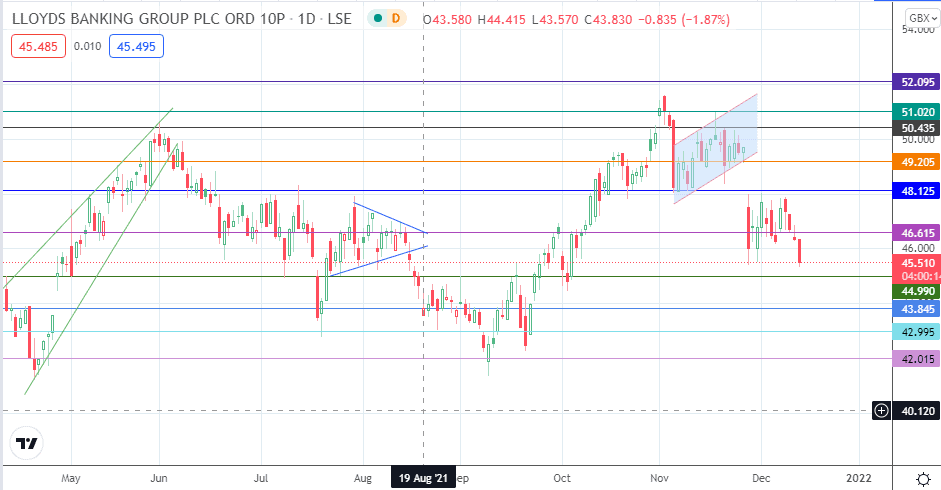 Follow Eno on Twitter.