Lloyds share price (LON: LLOY) experienced a bounce on Tuesday, making a new weekly high. The UK stock markets are showing signs of recovery. The shares of the Lloyds Bank British bank closed at 43.3p on Tuesday after rising 2.68% on the second day of the week.
After remaining in a downtrend the last week, Lloyds shares are exhibiting positive price action as bullish sentiment surrounds the UK equities market. The US Federal Reserve recently made positive remarks, which resulted in a rebound in stock markets around the world.
The FTSE 100 index, which is a benchmark index for the top 100 companies operating in the UK, is up 1.5% on the daily time frame.
Lloyd Bank To Initiate Buy Back Program At Q3 Results
According to Jefferies, a £3 billion share buyback program by Lloyds will start this year. From the £3 billion, £500 million is expected to be revealed in the Q3 earnings report. Analysts expect the remaining £2.5 billion worth of shares to be bought back in Q4. This may have a positive effect on Lloyds share price in the coming months.
In other news, The Bank of England introduced a new way to test the UK Banks' resilience to different economic scenarios. For 2024, the British central bank will ask the banks for their balance sheets, which will then be used in different scenario-based stress tests. The aggregate results of the tests will then be made available for the public to see.
LON: LLOY Chart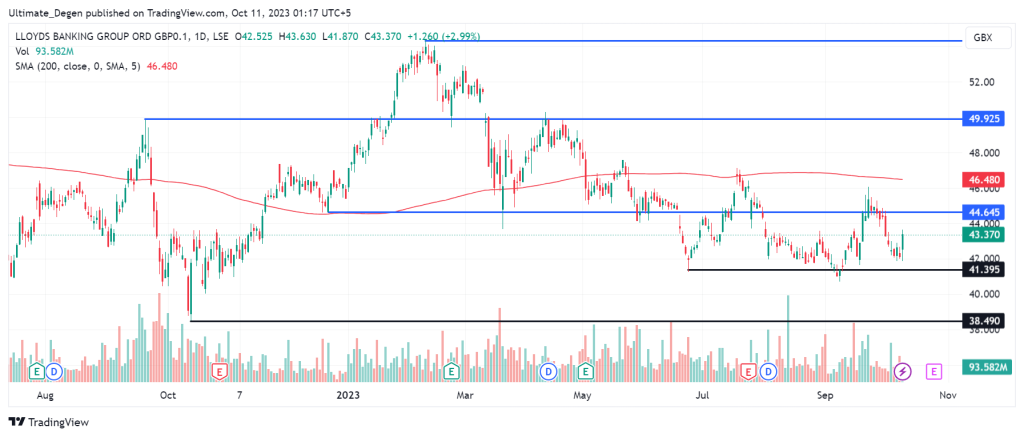 Lloyd Bank Share Price Forecast
LON: LLOY is up 4% from its October lows as the Q3 earnings report is right around the corner. Previously, the shares of the British bank suffered a 6% correction after receiving a rejection from the key resistance level of 44.65p.
As long as the price remains below the 44.46p resistance level, there will always be a chance for a retest of the 41.5p support level. The Lloyds share price forecast will flip bullish if the bulls push the price above the 44.6p level and hold. In this case, I expect the price to retest the 46.5p level, which is the 200 MA.