Lloyds share price is up today but is barely hanging on to its gains as it seeks to make it four winning sessions in a row. UK bank stocks have been gaining upside traction as investors' expectations of additional tapering of the UK's QE program by the Bank of England. 
Lloyds Bank says it will make changes to the limits on contactless card payments in October. The contactless limit, which currently stands at £45, will be raised to £100. However, there are fears that this could lead to a rise in fraud cases, as the new limits allow up to five payments at contactless transaction retail points before detection.
Lloyds' share price is up 0.62% as of writing.
Lloyds' Share Price Outlook
The daily chart features a harmonic pattern, with the price action racing towards the 46.415 resistance, where point D is expected to form. If there is rejection and a decline from this resistance, the pattern will be deemed as completed. With this expectation, the price action is expected to attain the 44.99 support level, with 43.845 and 42.015 serving as additional targets to the south.
On the flip side, a break above 46.615 extends the uptrend recovery towards 48.125, with 49.205 serving as an additional upside target. This move would invalidate the harmonic pattern. 
Lloyds Share Price (Daily) Chart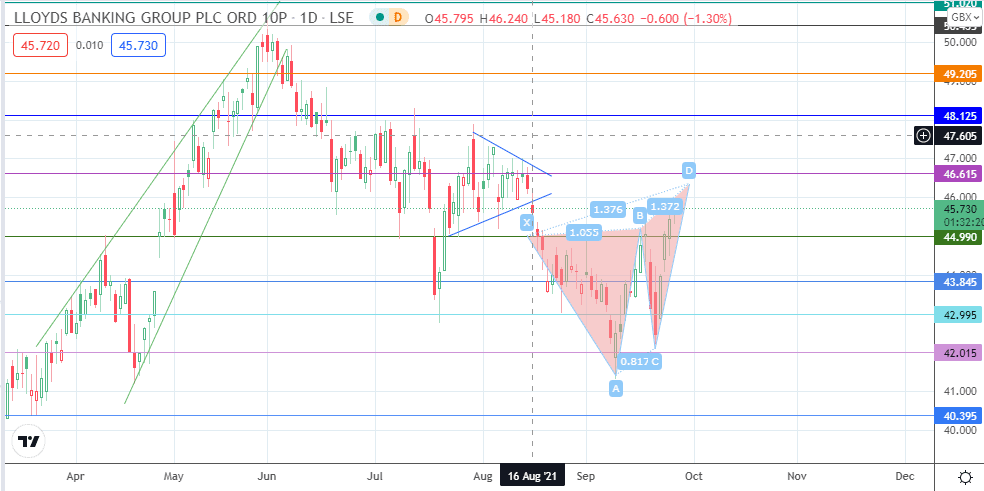 Follow Eno on Twitter.