Lloyd share price is slightly lower on the day, as the company finds itself in the law courts once more fighting a new lawsuit brought against one of its financial products. After a bright start to the week, Lloyds share price is under pressure as shared appreciation mortgage borrowers have dragged the bank to court.
According to details of the lawsuit, 150 homeowners have come together to sue the bank for losses incurred on shared mortgage facilities taken in the late 90s. These facilities required the owners to pay a portion of the appreciated values of these homes once sold. Some of the affected houses have risen more than 10-15 times in value, leaving the owners with large mortgage bills many litigants consider unpayable until death.
The lawsuit comes up in a month. This is not the first time Lloyds Bank is coming under the radar for a financial product which recipients claim harmed them down the road. Lloyds share price is down 0.49%.
Lloyds Share Price Outlook
Lloyds share price is currently trading in a sideways trend, bordered by the 43.845 resistance and the 42.995 support. Price needs to break down the support line to continue the correction that targets 42.015 initially, before the 40.395 price target comes into the picture. 
On the flip side, uncapping of the 43.845 resistance brings 44.990 into the picture, with 46.615 and 48.125 lining up as potential targets to the north. 
Lloyds Share Price: Daily Chart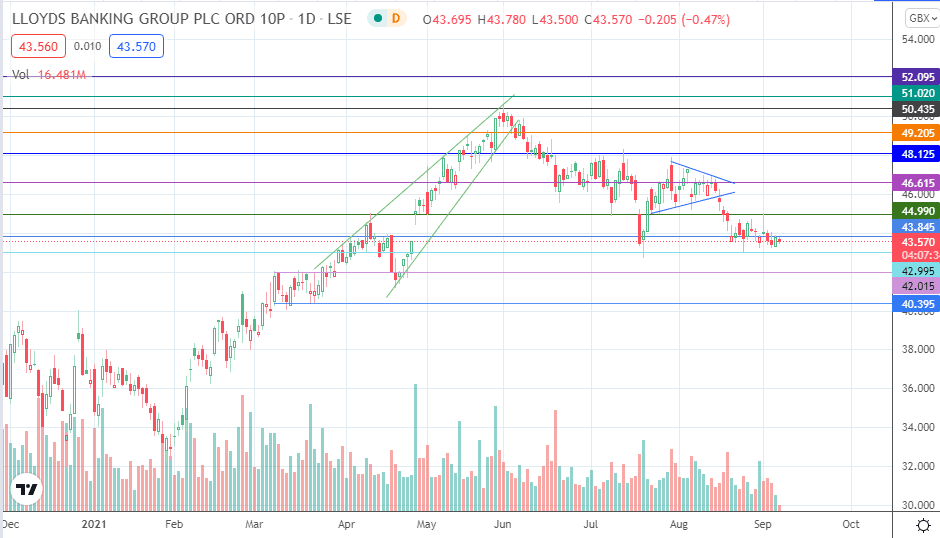 Follow Eno on Twitter.