The Lloyds share price has begun the new week on a negative note, opening with a bearish gap that has found support at 44.99. This dip in price comes as the largest UK banks are expected to report lower-than-expected profits for the first quarter amid high staff costs.
Despite rising interest rates that have provided tailwinds that have pushed the Lloyds share price off its 7 March lows at 38p, increasing bonuses among staff are expected to have taken a huge slice off the profits of Lloyds Bank other major UK banks. In addition, insolvencies and the end of write-backs for loan default provisions may also contribute to any shortfalls in profits.
Goldman Sachs reports that its UK bankers will take home £350,000 in bonuses, indicating the degree of pressure rising bonuses could have on the bank profits. However, Lloyds Bank is expected to have less of an impact as it majorly focuses on the domestic market.
Furthermore, its earnings from its real estate investments which have allowed it to capitalise on rising home prices may also mitigate any shortfalls from staff costs. Lloyds Banking Group reports its earnings later this week. The bulls are starting to claw back the losses of the day. However, after closing the bearish gap, the bears have pushed back on the stock, taking it down from its intraday high at 46.08p.
Lloyds Share Price Outlook
After starting the day with a bearish gap, the bulls closed it following a bounce from the 44.99 support (5 October/20 December 2021 and 11 March 2022 lows). This move must transcend the 20-day high at 47.15 to attain the resistance at 47.945 (29 July/8 December 2021 and 14 March 2022 highs). Above this level, the bulls must push the price above the descending trendline to attain the next resistance at 50.51 (29 October 2021 and 23 March 2022 highs). 52.095 and 54.00 await the bulls if the 50.51 resistance is uncapped.
On the flip side, a breakdown of 44.99 sends the price lower, targeting 43.16 (24 August 2021 low). Below this pivot, additional support comes in at 42.015 (23 April 2021 and 6 April 2022 lows). Finally, 40.005 is a psychological report that becomes available if the 42.015 pivot gives way.
Lloyds: Daily Chart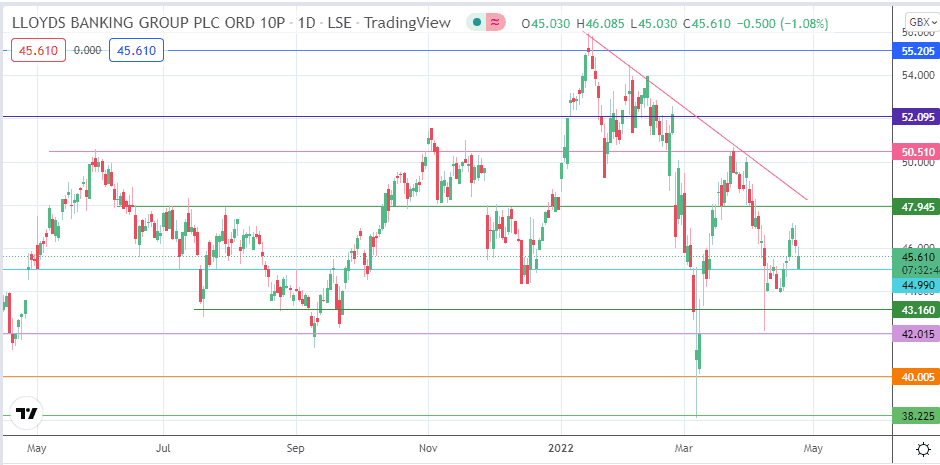 Follow Eno on Twitter.