In February, China came up with yet another crypto prohibition that soured Litecoin price predictions. Back then, the Chinese Supreme Court prohibited all forms of crypto fundraising and went a step further to criminalize the activity. Offenders now risk being sent to prison for ten years if they raise up to $8m under the new order. Lesser amounts raised may carry lesser sentencing, which could include fines.
This latest prohibition heaped additional pressure on Litecoin and other BTC-correlated crypto assets. Since then, Litecoin has lost some ground and is now trading within a tight range. The range can be pictured as a rectangle pattern. The expected resolution of this pattern is for the price activity to continue in the direction of the preceding trend.
The trend that precedes the rectangle is a downtrend, created by the rejection of the price candles at the 140.2 resistance (and the descending trendline). With very little news coming in the way, what is the Litecoin price prediction heading into the second half of March 2022?
Litecoin Price Prediction
The bulls need to break the 105.6 resistance barrier initially, then mount a successful challenge on the rectangle's upper border for the price action to attain 120.4. An advance that uncaps this barrier must also take out the resistance trendline at 130.0 before 140.2 can come into the picture. On the flip side, rejection at 105.6 puts the rectangle's lower boundary under pressure. If this border gives way to selling momentum, 91.6 will be the initial target for sellers. Additional price deterioration cuts a pathway towards 78.4 and 66.3.  
LTC/USDT: Daily Chart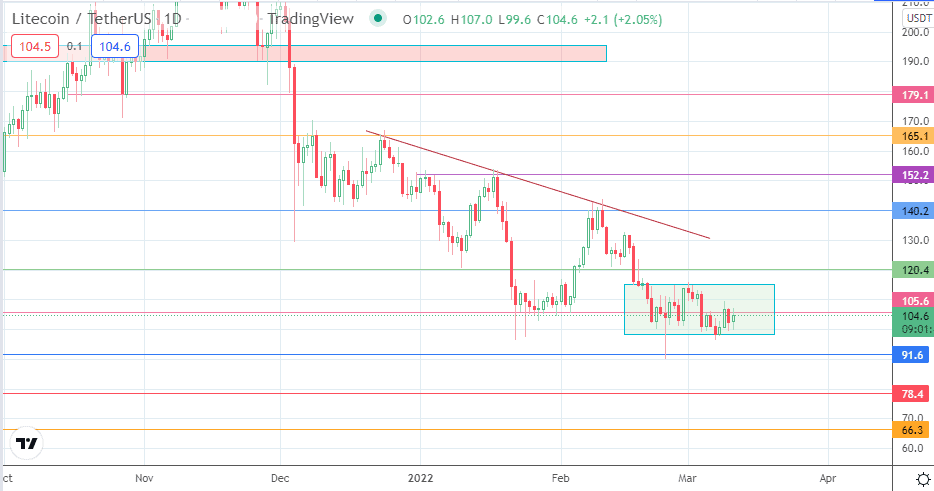 Follow Eno on Twitter.