Litecoin price is doing well as cryptocurrencies continue bouncing back. LTC has risen to $55.80, which was the highest point on Monday this week. This price is about 40% above the lowest level this month. This recovery brings its total market cap to about $3.8 billion. Other popular cryptocurrency prices like Bitcoin, Bitcoin Cash, and Chainlink have also bounced back.
Litecoin has risen as investors buy the dip. This happened after the coin slipped to a multi-month low of $40.45 during the weekend. The decline was triggered by the ongoing crisis affecting many players in the industry. For example, Three Arrows Capital, a hedge fund with over $10 billion in assets under management, has burst. Similarly, Celsius is fighting for survival.
Most importantly, interest in cryptocurrencies among investors has faded after the significant losses. Many of them have experienced significant losses. For example, the total value of all cryptocurrencies has crashed by more than $2 trillion this year.
Meanwhile, on-chain data shows that interest in Litecoin is fading. Inflows have reduced while the overall on-chain activity has been falling.
Litecoin price prediction
The four-hour chart shows that the LTC price formed a double-bottom pattern at around $40. In most cases, this pattern is usually a bullish sign. However, it has also moved slightly above the double-bottom's chin at around $52.06.
Litecoin has also moved slightly above the important 25-day and 50-day moving averages while oscillators have tilted upwards. Notably, the Mayer Multiple has moved to 0.51.
Still, there is a likelihood that Litecoin price will resume the bearish trend in the near term. If this happens, the next key support to watch will be at $50. On the other hand, a move above the key resistance level at $60 will invalidate the bearish view.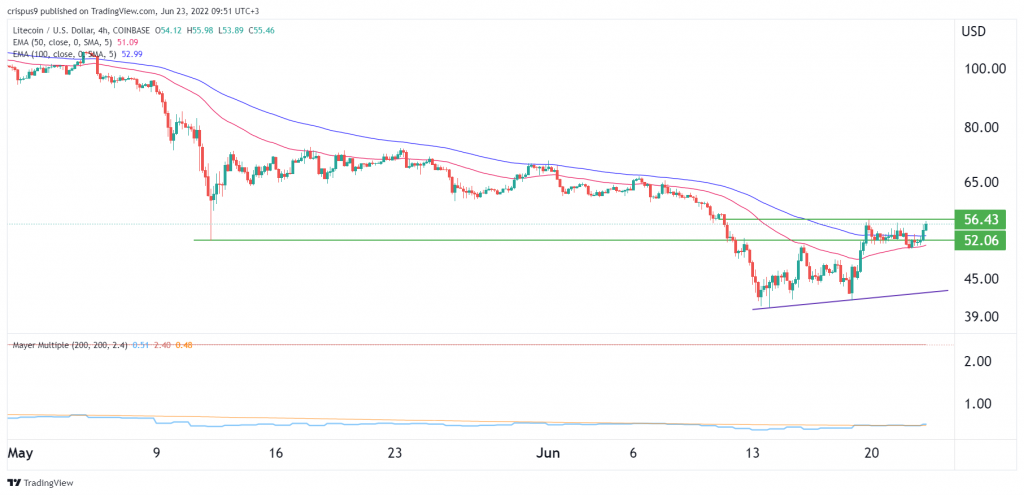 LTC Support and resistance levels
My view on Litecoin aligns with our S&R indicator is signalling. The indicator estimates that Litecoin will pull back and retest the first and second support at $46 and $41, respectively. The stop-loss for this trade will be $46. You can learn more and subscribe to this highly accurate indicator.