The Kishu Inu price rose 1,551% in October.
The recent high was a 50% Fibonacci retracement move from the downswing of May to October 2021.
The token is back in the downtrend as interest in meme tokens wanes.
The Kishu Inu price surge seen before the correction came due to its meme connection with the Shiba Inu token, which recently hit new all-time highs.
Several meme coins attached to Shiba Inu saw big gains after catching the attention of the public. Kishu Inu's gains came to about 1,551% in October, as it rose to the 50% Fibonacci retracement point of the price swing that started from its listing high on 1 May 2021 to the all-time low on 1 October.
Since then, the correction in prices has caused the Kishu Inu price to dip by 46%. Technically speaking, the token remains in a downtrend. Here is the Kishu Inu price outlook.
Kishu Inu Price Outlook
The active Kishu Inu price candle on the daily chart is challenging the support at the 0.000000003983 price mark (31 May and 14 October highs). A breakdown of this area allows the bears to make a push towards 0.000000002675 (29 May and 23 October high). A further correction of the Kishu Inu price targets 0.000000001497, with 0.000000000363 forming additional support as the all-time low.
On the other hand, if the bulls can defend the 0.000000003983 support successfully, a price bounce could occur. This scenario will present 0.000000004768 as the initial upside target, with 0.000000006295 (24 May 2021 high) also lining up as a potential resistance target.
Kishu Inu Price Chart (Daily)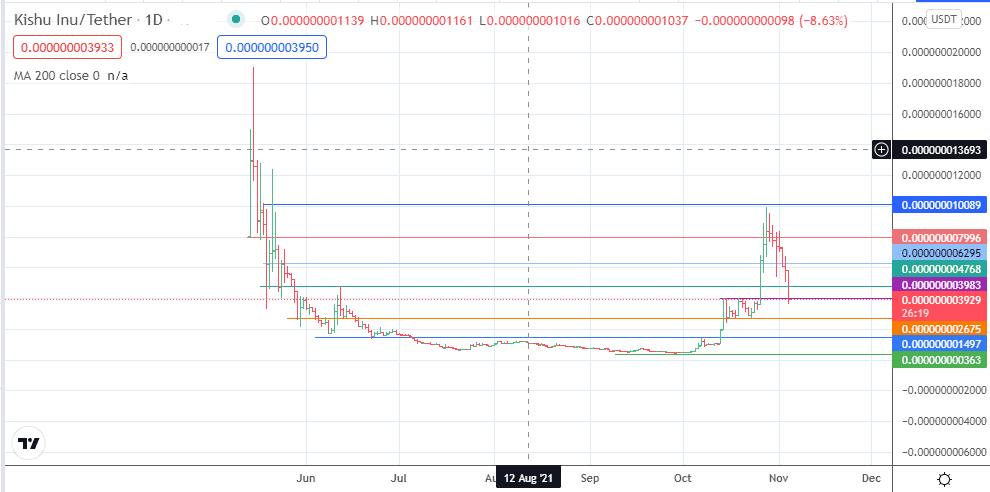 Follow Eno on Twitter.