Our KAVA crypto price prediction suggests that a major bullish move could be around the corner. KAVA price seems to be holding quite strong when most of the cryptocurrencies are facing sell pressure. Nevertheless, the price needs to hold the $4.13 level and break out of the downward trendline to gain momentum. Most of the altcoins are trading 80-90% below their 2021 all-time highs. Although KAVA coin is also trading 47.8% below its $9.12 ATH, it is still 1500% above its 2020 lows.
Latest KAVA Crypto News
KAVA is a unique Layer 1 Platform that aims to achieve both speed and interoperability. To achieve this, the KAVA coin combines the features of Ethereum and Cosmos. It enables EVM compatible smart contracts with Ethereum Co-Chain and utilizes fast consensus via Cosmos Tendermint.
As per the latest KAVA crypto news, the network has announced a $750 million Developer Fund called KAVA Rise. These funds will be utilized in a developer incentive program. This would definitely speed up the developmental activity on the network in the coming months. However, apart from development, the project also needs mass adoption to meet any bullish KAVA crypto price prediction.
KAVA Crypto Price Prediction
Technical analysis of KAVA price chart depicts that the price is holding up pretty nicely in the ongoing crypto dip. After dipping to the lows of $2.55 in February 2022, the price immediately soared to $5 in April. However, it had to face intense resistance from the trendline and still trying to break it. If the KAVA crypto price holds the $4.13 level, then the price might break the trendline very soon.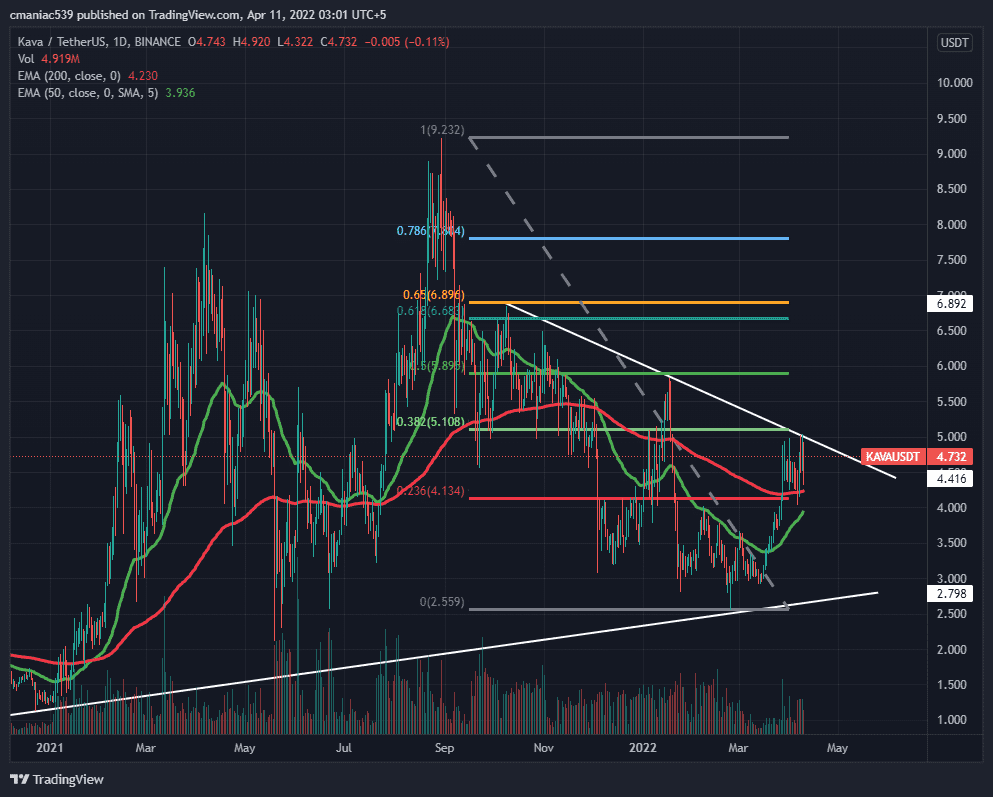 A clear breakout of the downward trendline could make $6.68 level a valid KAVA crypto price prediction. However, any lower low than $4.13 could mean another retest of the $3 level before another leg up. Similarly, the $2.55 level must hold in any case or the price would break the higher time frame uptrend. In such an extremely bearish scenario, bears could even take it to $1.20 level where lies some support.