Kadena price has rebounded in the past few days. KDA is trading at $7.08, about 62% higher than the lowest level this year. Unfortunately, this price is about 75% below its all-time high, bringing its total market capitalization to $1.2 billion.
What is Kadena and what does it do?
Kadena is a layer 1 blockchain project that seeks to become a better and faster platform for all decentralized application (DAPP) developers. It was launched in 2016 by a team of experienced blockchain developers who took part in developing JP Morgan's internal cryptocurrency known as JPM Coin.
The biggest benefit of Kadena's blockchain is its significant speed compared to other blockchains. For example, it can handle about 480k transactions per second (TPS). In contrast, Ethereum can only handle less than 20 TPS.
According to its developers, Kadena is the only blockchain project that is agile enough to settle all trades in the New York Stock Exchange (NYSE).
Another important characteristic of Kadena is that it achieves this speed using a proof-of-work (POW) technology instead of proof-of-stake. The developers believe that embracing this technology is more secure than using the latter methodology.
Kadena's ecosystem is supported by advisors from companies like JP Morgan, Microsoft, Tezos, and Cardano Foundation.
What is KDA coin and its tokenomics?
KDA is the native token for Kadena's ecosystem. It is the token used to pay for computations in Kadena's ecosystem. In other words, it is the coin in which miners are compensated to mine Kadena. The total supply limit of KDA is 1 billion coins that will be mined for more than 120 years.
70% of all the mined KDA goes to miners, while 20% supports the platform. The remaining 10% goes to Kadena's contributors and investors.
Kadena ecosystem
The Kadena price has crashed by over 75% from its all-time high because many people believe it is a ghost chain. A ghost chain is a prominent layer 1 or layer 2 blockchain project with little or no major projects beneath the surface.
Still, several projects are built using Kadena, although their usage is not as big as that of chains like Ethereum and Solana.
Kaddex is a decentralized exchange (DEX) built on Kadena that allows people to make gas- trades. It has also been used to build platforms like Kadenaswap and Tokensoft.
Kadena price history
For most of 2020 and 2021, the KDA price was in a narrow range. Its price ranged between its all-time low of $0.1600 and the resistance at $1.90. It then made a strong bullish breakout in the third quarter of 2021 as more people became aware of the network.
As a result, its price jumped by more than 4,000% from its lowest level in October to its all-time high at $28.56. After soaring to an all-time high, the Kadena price crashed by 75% as investors worried about whether it was a ghost chain.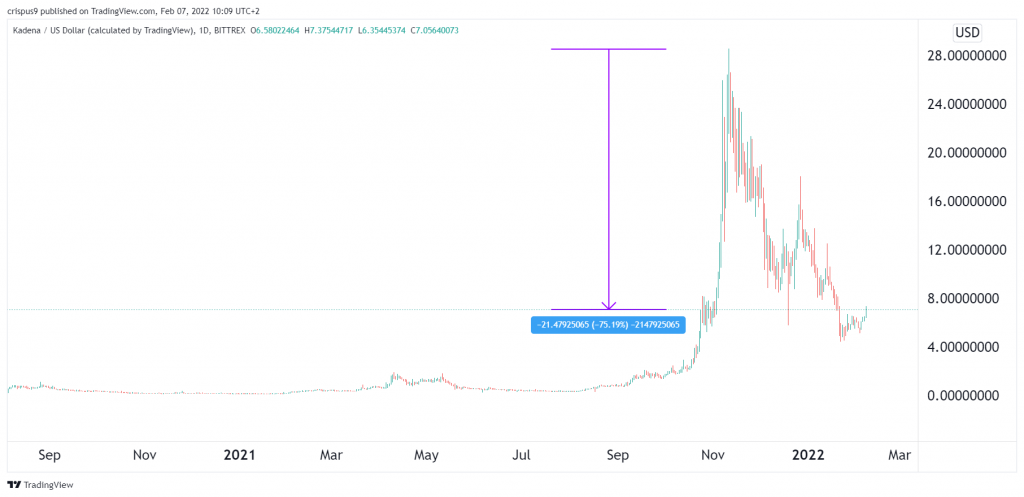 Is Kadena a good investment?
A common question among blockchain investors is whether Kadena's blazingly fast speed means that it is a good investment.
While speed is a good thing, some analysts believe that it is not the only factor that investors and developers look at. For example, for years, Visa has become one of the biggest companies globally, even though its network speed handles less than 5,000 transactions per second. Similarly, Ethereum is a leading platform even though it handles less than 30 tps.
Therefore, the only catalyst that will make Kadena a good investment is its usage and network growth. Like Fantom, investors will always invest in blockchain platforms with clear usage. At the same time, investors have proven that they will dump platforms that evolve into ghost chains like EOS and Ethereum Classic.
In my view, Kadena is a high-risk, high-reward cryptocurrency. While there is a possibility that the KDA price will bounce back, there are also risks that it will drop especially if developers opt for other networks. Also, keep in mind that its industry is now so competitive, with Solana, Polygon, Binance, and Avalanche dominating the sector.
Kadena price prediction 2022
Like all cryptocurrencies, 2022 has not been a good year for KDA as its price has already crashed by almost 50%. This is an unfortunate indication of where Kadena will be at the end of the year.
Turning to the daily chart, we see that the Kadena price has been in a sharp downward trend in the past few months. As a result, the coin's price has crashed below the 25-day and 50-day moving averages.
A closer look shows that the coin has formed a falling wedge pattern that is shown in black. Therefore, we cannot rule a situation where the Kadena price bounces back in the first or second quarters. If this happens, the key support and resistance levels for KDA will be at $1.00 and $15.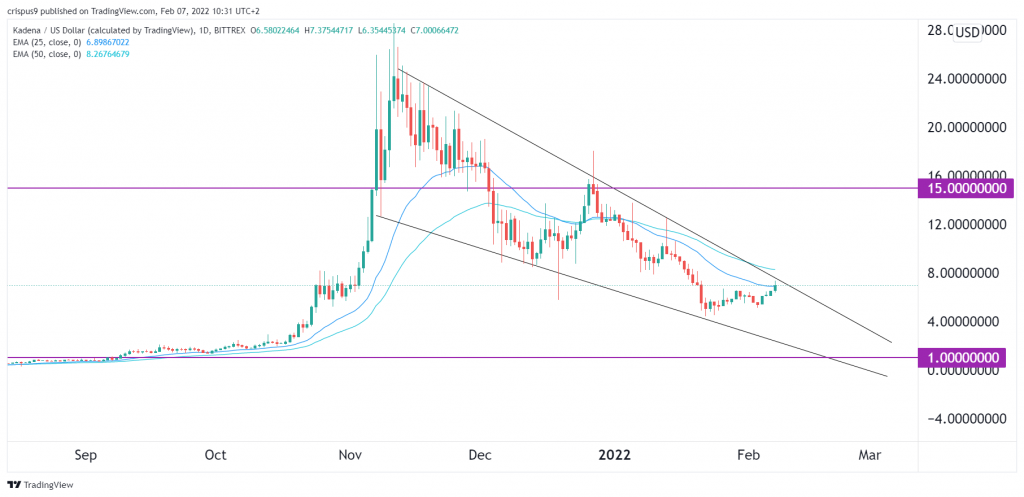 KDA price prediction 2025
To predict where the price of Kadena will be in 2025, we first need to establish whether we expect Bitcoin will be at a higher price than where it is today. While this is a difficult task, there is a wide consensus among investors that BTC prices will keep rising in the coming years. For one, regulations will likely make the industry more friendly to investors.
Therefore, if BTC keeps rising, there are chances that other coins will rise because of the close correlation. The stock-to-flow model estimates that BTC will be above $100,000 by 2025, which is about 2.38 times where it is today. Therefore, if Kadena price jumps by the same rate, its price will likely be at $16.6.
Another way of modelling where the KDA price will be in 2025 is to use the Andrews Pitchfork tool. As shown below, the coin's support and resistance levels will be at $46.65 and $74.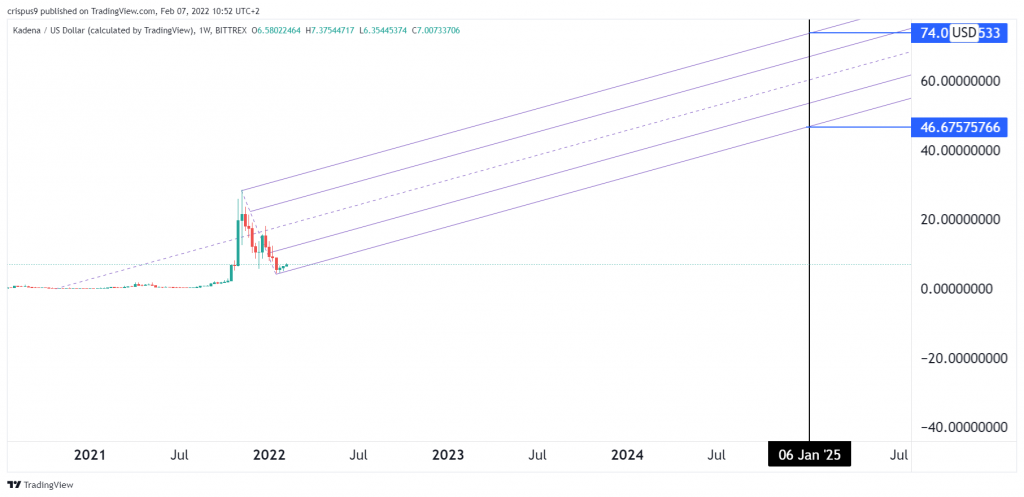 Summary
The Kadena price has struggled in the past few months as investors worry about the network's growth. In this article, we have explained what Kadena does and identified some of the projects in its ecosystem. We have also predicted where its price will be in 2022 and 2025.