Jasmy Coin price has been in a strong bearish trend in the past few months weeks as demand for the coin waned. The coin slipped to a low of $0.0067, which was its lowest point on record. It has fallen by more than 98% from its all-time high, giving it a market cap of more than $295 million. So, is Jasmy a good buy?
What is Jasmy and is it a good buy?
Jasmy is a mid-cap cryptocurrency that is attempting to disrupt the data storage and safety industry. The developers work with companies to help them build a data storage strategy. It then provides them with an IoT platform and devices to help them handle this data well. At the heart of its ecosystem is a product known as the Personal Data Locker (PDL).
It uses this product to create an environment where users can attribute their data to themselves and decide what to d with it. All data generated in the PDL is stored in the ecosystem. As a result, Jasmy receives a royalty in exchange for providing the service.
Jasmy also has a Secure Knowledge Communicator (SKC), which allows the company to achieve data democratization by controlling, managing, and tracing personal data. In addition, Jasmy has a Secure Guardian, which allows easy and secure registrations of IoT devices on the distributed network.
Jasm Coin is the native coin for the ecosystem. It is an ERC-20 token that has a circulating supply of 30.8 billion coins and a maximum supply of 50 billion coins.
Jasmy Coin price prediction
The daily chart shows that Jasmy has been in a strong bearish trend in the past few months. It managed to move below the important support level at $0.0080, where it struggled moving below it since May this year. Jasmy has moved below all moving averages while a MACD moved below the neutral level.
Therefore, the Jasmy Coin price will likely continue falling as sellers target the next key support level at $0.0055. A move above the resistance at $0.0080 will invalidate the bearish view.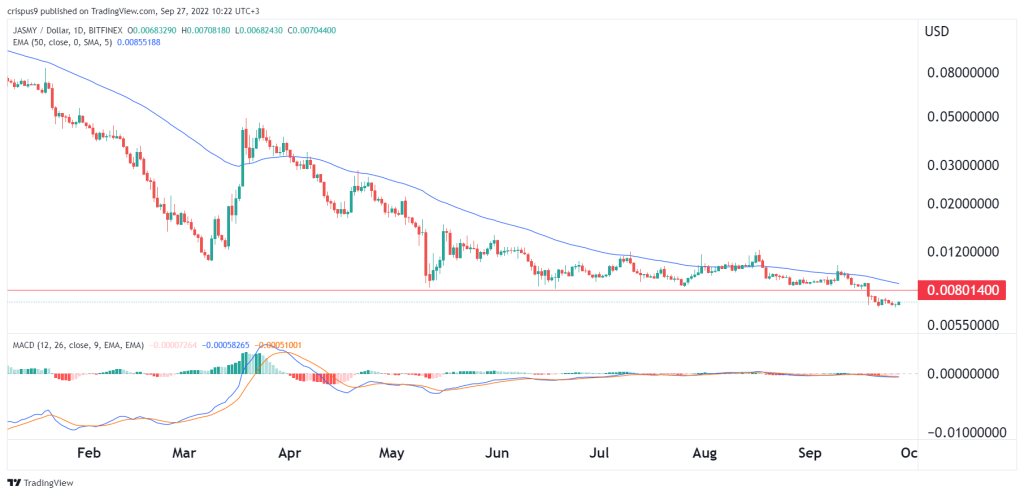 Jasmy support and resistance
The bearish view of the Jasmy Coin price is confirmed by the highly accurate InvestingCube S&R indicator. As shown below, the indicator predicts that it will continue falling, with the next key support level to watch will be at $0.0072 and $0.0065. The stop-loss for this signal is at $0.0086.