The Jasmy coin price prediction isn't looking very bullish as the price is making lower lows every other day. Jasmycoin has been in a severe downtrend since November 2021 and another all-time high seems to be unlikely this year. On 24th February 2022, the price dipped to the lows of $0.0149 on the bearish news from Eastern Europe. Price needs to make a higher high sooner rather than later to target bullish targets later this year.
What is Jasmy Coin?
Jasmy was first registered in 2016 as an IoT company. The aim of the company is to democratize the data of IoT devices, making it more valuable to boost innovation. Most of the IoT data these days is being stored on centralized servers these days, making it quite vulnerable. Jasmy secures this data by storing it on IPFS instead of centralized servers. Iotex is another cryptocurrency focused on IoT. Before moving on to our Jasmy coin price prediction, let's have a look at its current rank in the market.
As per the latest Jasmy coin news, the cryptocurrency is currently sitting at a market cap of $81 million. It is still one of the top 500 biggest crypto assets by market cap. JasmyCoin price is trading at $0.017 which is more than 99% down than its February 2021 all-time high of $4.79.
Jasmy Coin Price Prediction
Looking at the Jasmy price chart, it is evident that it has failed to make higher highs since November 2021. The price made a local high of $0.32 in November 2021 but has been in a severe downtrend since then. If the recent bounce from $0.0149 doesn't hold then $0.01 is going to be the last support. A breach of the $0.01 level would put the price in unchartered bearish territory.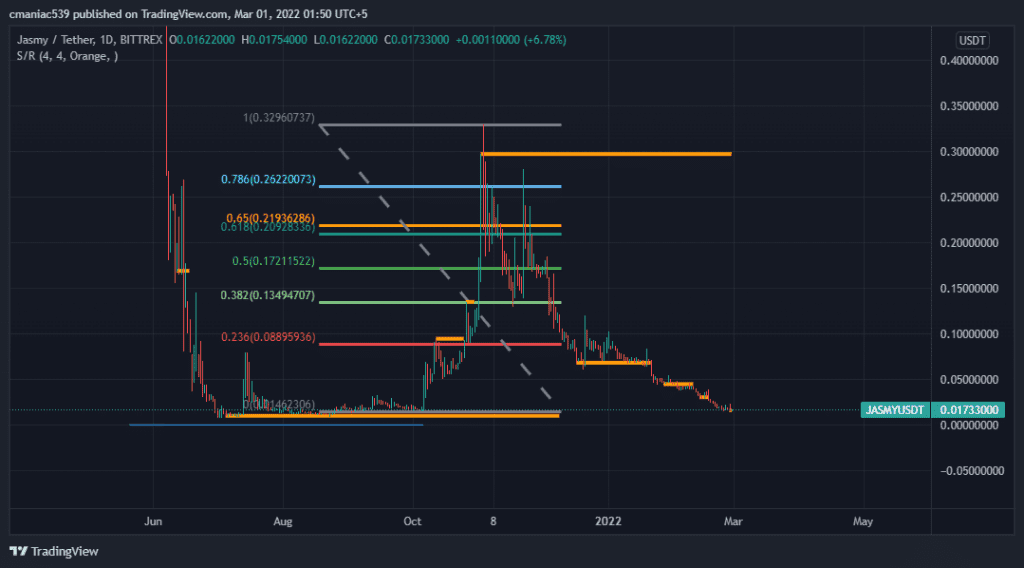 Nevertheless, for a bullish Jasmy coin price prediction, the price needs to break above the resistance of $0.045. If Jasmycoin price reclaims this level then the price can also test the 0.38 Fib level at $0.13 in 2022. This Fib level comes by connecting the November 2021 highs and the recent February 2022 lows. However, it all hugely depends on the overall market sentiment, and any lower low than 0.01409 would invalidate this prediction.