The ITV share price continues its correction from recent four-month highs, as traders profit from the recovery move that commenced earlier in the month. This move was triggered by the positive forward guidance the UK broadcast outfit gave for the 2021 fiscal year. However, traders are now looking for new triggers to continue the rally following the correction from the 126p high.
The price moves come as ITV announced a shake-up in its programming schedule for Tuesday. The popular reality show I'm a Celeb, which runs on the station, also suffered a recent setback as a contestant pulled out of the show after developing a sudden illness.
ITV Share Price Outlook
The completion of the head and shoulders pattern on the 4-hour chart set the stage for the steep drop in the ITV share price, with the immediate downside target at 115.55. A further decline below this pivot brings 111.70 into view, with other price milestones to the south seen at 108.00 and 104.05.
On the other hand, a bounce off the 115.55 pivot arrests the slide and opens the door towards a recovery move that targets 120.10. If the advance continues, the completed pattern's neckline at 124.00 becomes a new target to the north. There is also the potential of 126.95 and 133.10 coming into the picture if the advance is extensive.
ITV: 4-hour chart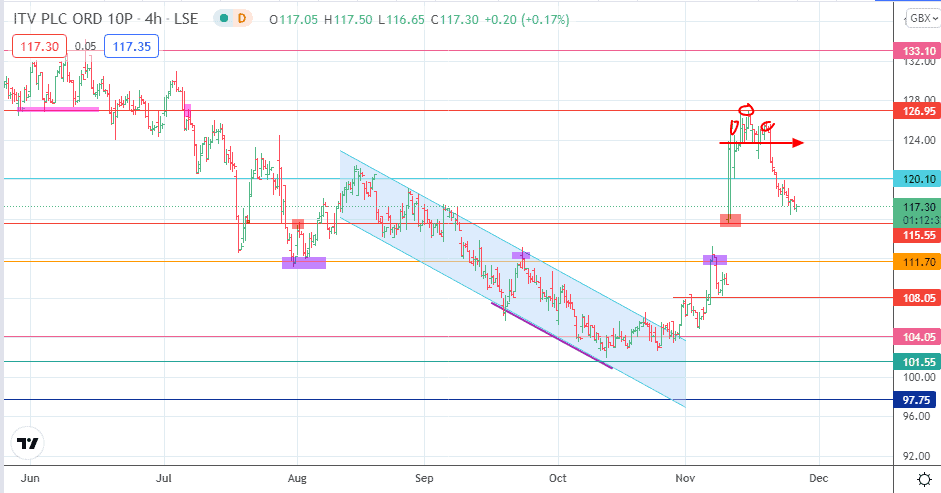 Follow Eno on Twitter.