The stock of Ideanomics Inc has been on the receiving end of a steep selloff that has seen its share price plummet in recent weeks. However, the emerging chart pattern could indicate that the downtrend may verge a reversal. Therefore, traders would be looking for the current muted recovery's furtherance as they seek to fulfil bullish IDEX stock forecasts.
Boosting the sentiment of a potential reversal is the recent acquisition done by the company. Traders applauded the finalization of the purchase of 70% stake in Italian electric motorcycle maker Energica Motor Co in a deal that cost Ideanomic Inc 3.2 Euros per share.
The deal is an all-cash deal and aims to give Ideanomics brand awareness and an expanded market share. As a result, the Italian Stock Exchange has delisted Energica. Ideanomics had secured 93.63% of Energica's public float. Ideanomics had gained 3.5% and 9.46% on the news before losing Wednesday's initial gains on a losing day.
IDEX Stock Forecast
The rounded bottom on the daily chart after a sustained downtrend could indicate that the party for the bears is over. A break above the 1.13 lid confirms this. Such a move opens the door for the price activity to push towards 1.44. This would complete the measured move. However, if the price extends above 1.44, we could see additional recovery towards 1.66 and 1.84 (10 August 2020/18 November 2021 highs).
On the flip side, rejection at the 1.04 resistance (14 February and 30 March highs) opens the door for a potential slide towards 0.80 (2 November 2020 and 15 March 2022 lows). The 20 April 2020 low at 0.58 and the 6 March 2020 low at 0.26 are potential southbound targets, and they become viable on further price deterioration.
IDEX: Daily Chart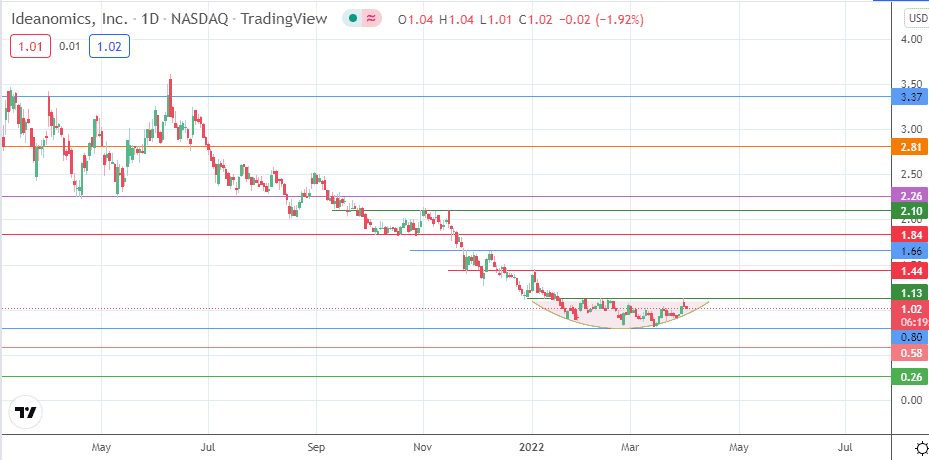 Follow Eno on Twitter.