IAG share price faces headwinds on Friday amid an escalating conflict in the Middle East. The shares of airlines, including IAG, may decline further as oil prices rise for the second day in a row. At press time, the shares of the British Airways owner are changing hands at 145.45p, after a 1.22% drop on the last trading day of the week.
Side by side, the FTSE 100 index also experienced a slight correction after a spokesperson for the Bank of England pointed toward a harsher monetary policy in the future. Additionally, the expectation of maintaining the high interest rates by the US Federal Reserve have also put pressure on global stocks.
On Friday, the British benchmark index lost 19 points, whcih could be beginning of another correction. The index seems to be really struggling to break above the 7,690 points level.
Last week, it was revealed that IAG had a discussion behind closed doors regarding a potential purchase of 20 or more aircraft from Boeing and Airbus. The British airway owners intend to replace the old Boeing 777s with widebody jets. The shares of IAG are down16% from its yearly peak of 173.5p.
IAG recetnly averted a crisis after signing a pay raise deal with its pilot's union. The new deal is expected to reduce the chances of a strike until 2027, provided the union members vote in favor of the offered deal.
LON: IAG Chart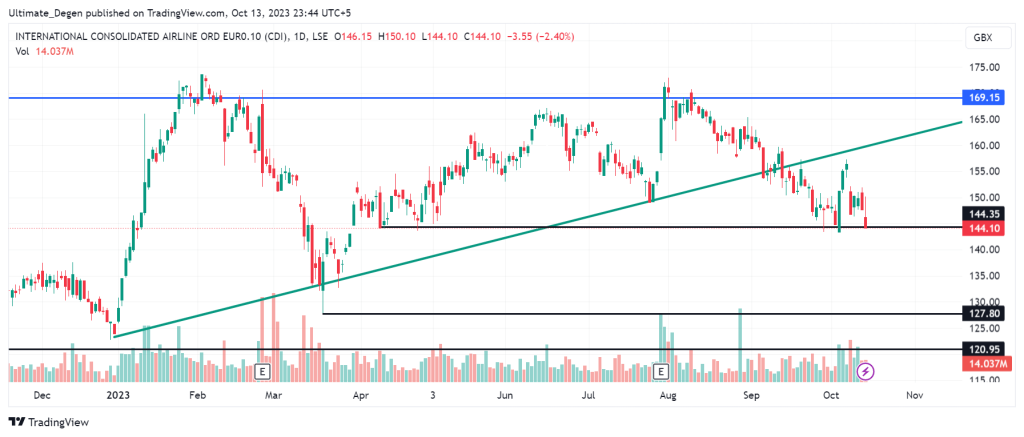 IAG Share Price Forecast
LON: IAG failed to break above the 200 MA despite rallying 9% last week. The shares of the British Airways owner suffered a 7% correction right after the rejection from 157p as oil prices surged to new weekly highs.
The IAG share price forecast is not looking good for the bulls and may drop more if the war in the Middle East prolongs. A 12% correction towards the 128p support level could be on the cards, if the bears gain acceptance below the 144p support.