The IAG share price is on course for the second day of renewed losses, following the 3.24% dip on Wednesday.
The decline comes as investors shy away from travel stocks due to expanding restrictions due to the Omicron COVID-19 variant. The restrictions on inbound travel from several countries into the UK looks set to deny IAG much-needed revenue from these routes, dampening sentiment around its stock.
The IAG share price has fallen 21% in the last month, leading the industry cohort in losses as the emergence of the Omicron variant caused governments to implement sudden travel bans that have primarily affected long-haul international flights that IAG is known for.
IAG Share Price Outlook
After completing the measured move from the double top on the daily chart at the support zone, which has 124.48 as the floor, the IAG share price pushed up slightly towards 143.94 before selling resumed. This has resulted in a pushback that is endangering the support at 136.64. If the bulls fail to defend this level, we could see price deterioration towards the support zone. A break of the 124.48 supply zone floor would lead to a cascade towards 110.26. 102.68 is an additional support level that enters the picture if the price declines below 110.26.
On the flip side, a bounce on the 136.64 support brings 143.94 into the mix once more. The bulls must uncap this level for additional barriers at 149.72 and 156.40 to come into the picture. 167.54 and 177.46 are resistance levels that remain far off and only relevant on price advance.
IAG: Daily Chart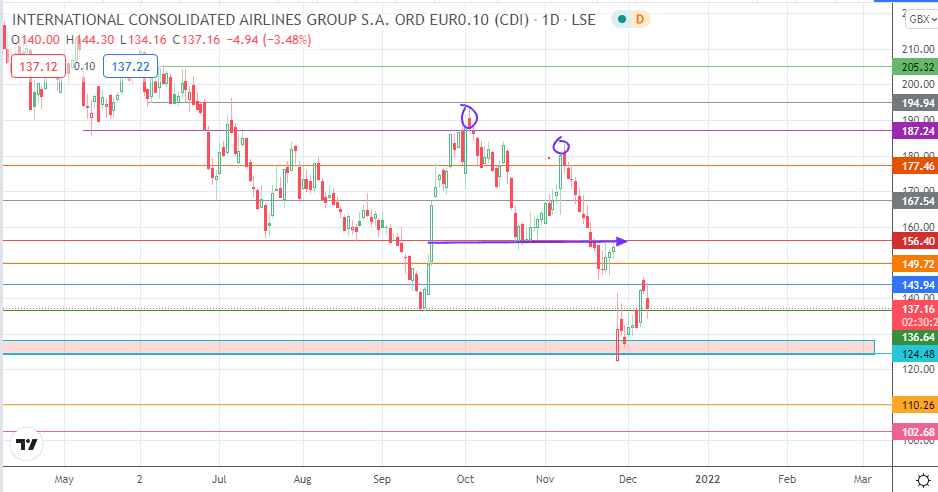 Follow Eno on Twitter.