The IAG share price staged a slight intraday recovery after Tuesday's drop. Tuesday's stumble in what has been a spectacular run of bullish form came as airlines were forced to cancel flights to La Palma due to the active volcano that has produced an ash cloud and explosions.
Spanish airline Iberia, part of the IAG Group, had twitted some of its flight cancellations but did not indicate how many flights it would shelve due to the situation.
Investors remain optimistic that the situation would normalize, allowing the IAG share price to pick up from where it left off. The stock has shown remarkable recovery after the US government lifted restrictions on flights. The UK also scrapped its traffic light system of travel classification from COVID-19 hit countries to improve air traffic.
The IAG share price is up 1.48% as of writing.
IAG Share Price Outlook
The 4-hour chart reveals a bullish pennant in evolution. The IAG share price activity needs to break past the pennant's upper border and the 187.24 resistance to clear the pathway towards 194.94, and this resistance marks the completion point of the pennant. Any further advances on the price action target 205.32, with 200.00 acting as a potential psychological pitstop.
On the other hand, a decline towards 177.46 invalidates the pennant. However, the bears would still need to break this support for subsequent targets at 167.54 and 156.40 to come into the picture.
IAG Share Price (4-hour) Chart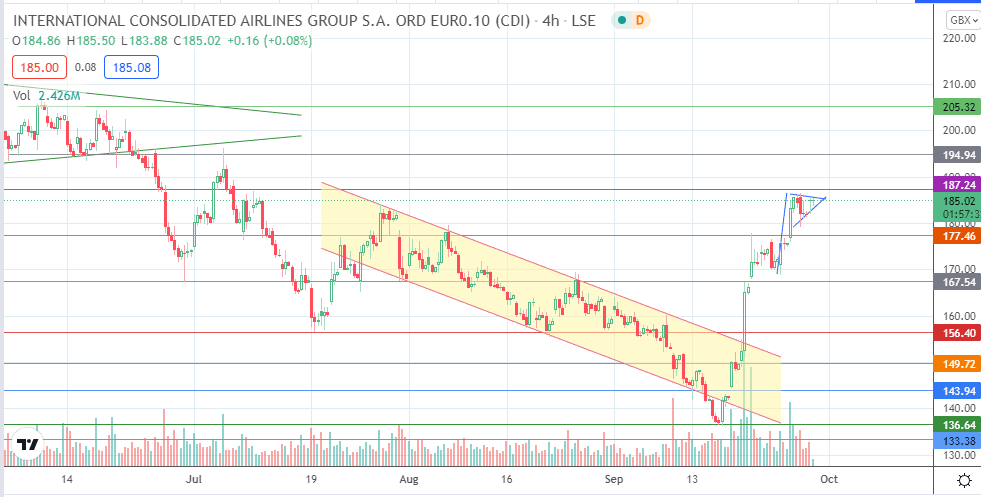 Follow Eno on Twitter.