The IAG share price continues to slide in what has been one of the biggest losing runs since the onset of the pandemic 18 months ago.
Any upside move that came from the reopening of the London-New York route to vaccinated travellers has been lost as rising cases of COVID-19 in Europe and the rise in energy prices appear to be stripping the stock of investor appeal.
Rising energy costs pose a headwind to aviation companies. There are also fears that the resurgence of COVID-19 cases in Europe could spur new restrictions to travel, ultimately impacting companies in the travel and hospitality industry. Last week, the Organization of Petroleum Exporting Countries and their partners (OPEC +) refused to raise the limit of their quota addition. So far, the US has been non-committal in using local reserves to force down prices.
These concerns are now showing up on the stock charts, with the IAG share price trading ower by 3.34% to mark a seventh losing session in eight.
IAG Share Price Outlook
The steep decline seen in the last two weeks has come off a rejection of the price at the 200-day moving average. The downside move has taken out support levels at 177.46 and 167.54 and is presently challenging 156.40. If the bulls fail to defend this support, 149.72 comes into the picture. 143.94 and 136.64 are also potential pivots if the price dips further.
Conversely, a bounce on 156.40 allows for a potential recovery to 167.54. 177.46 and 187.24 are additional price targets to the north, with the 200-day moving average needing to give way for the latter to become available. Only a break of 194.94 allows for the uptrend to continue. Otherwise, the progressively lower highs at 4 October and 8 November could mean that the downside bias remains. Under these conditions, any rally may become potential sell points.
IAG: Daily Chart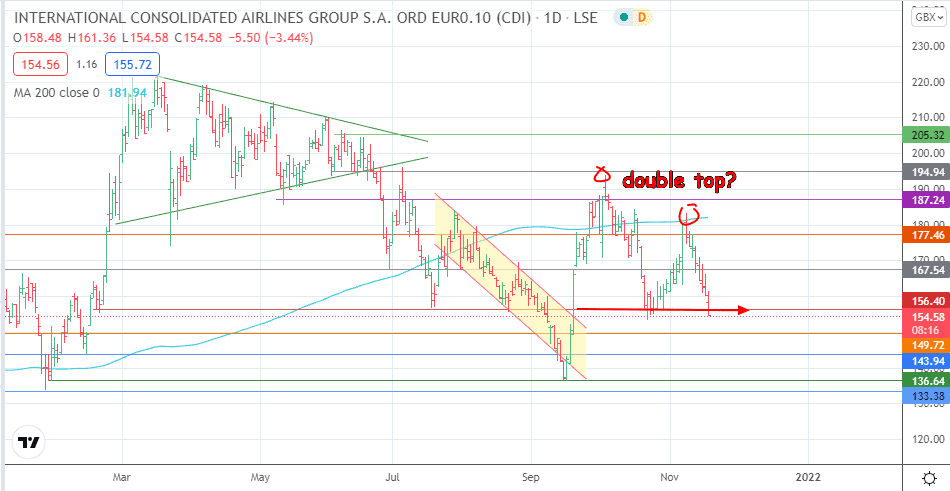 Follow Eno on Twitter.