IAG share price is behaving exactly as I predicted in my previous analysis. I accurately predicted a breakdown below 144p. This breakdown occurred earlier this week and bears have gained a lot of momentum since then.
On Friday, the shares are changing hands at 138p which is 4.7% below the 144p support level. This marks the fresh yearly lows for the stock of the airline operator.
Global stock markets are experiencing a negative sentiment these days and the UK stock market is no exception. The FTSE 100 index has slid 3% from its October highs amid war and economic tightening. Furthermore, the increase in oil prices is also weighing on the airline stocks.
Citigroup has recently downgraded its IAG share price target by 25p. The broker set 175p as the new price target while maintaining its 'buy' rating for the shares of Internationa Consolidated Airlines Group.
In the last two weeks, IAG shares have been in a tailspin and have declined 8.5%. Since the beginning of the war, oil prices have surged significantly, with Brent Crude oil gaining 8.2% in just the last two weeks.
As a result, shares of airlines are in a tailspin, with IAG and easyJet sliding 9% and 20% in two weeks, respectively.
LON: IAG Outlook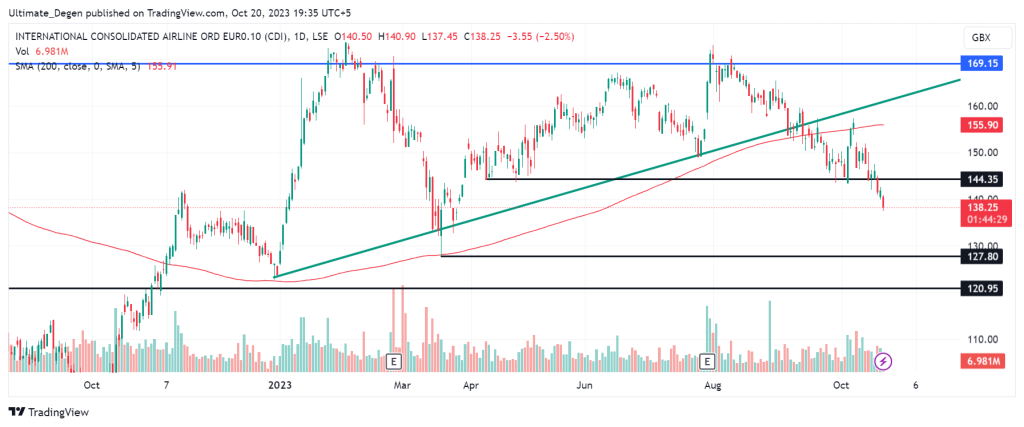 IAG Share Price Forecast
IAG stock has entered into bearish territory after it broke below its 144p support level on Wednesday. The shares of the British Airways owner are currently trading 11% below 200 MA. This further contributes to the bearish outlook on the stock.
After a breakdown below 144p, a retest of 128p is the most likely scenario. However, a bullish divergence on RSI shows the bears are exhausted after a strong downward push from 156p. For the IAG share price forecast to flip bullish, a reclaim of the 144p level is critical.
I'll keep sharing my updated analysis on the IAG and easyJet shares on my Twitter, where you can also follow me.