Holochain was presented to the market as an alternative to blockchain. The Holochain coin, which is one of its key projects, has been on downward pressure in recent months. However, analysts forecast significant growth in coming years. With this in mind, this article, the focus will be on Holochain price prediction for the period between 2022 and 2030.
What is Holochain?
Holochain is a distributed peer-to-peer network and marketplace that allows hosts to use Holochain applications (hApps). The Holochain coin (HOT) is one of the embedded projects. Notably, the network is keen on being a cheaper and faster alternative to blockchain with more scalability. Besides,its adoption rate has increased due to its ability to give ordinary internet users power over their individual data.
Holochain vs. Blochain
The Holochain framework is aimed at providing a cheaper alternative to blockchain. Besides, in an attempt to ensure that individuals maintain control of their data, Holochain has eliminated the need for staking and mining.
Another difference between blockchain and holochain is that the latter has individual nodes validated against one another. Subsequently, the hosts are in a position to operate several full nodes with ease.
The table below summarizes some of the key differences between Holochain and blockchain
| | | |
| --- | --- | --- |
| | Holochain | Blockchain |
| Popular projects | Holochain coin (HOT) | Bitcoin (BTC), Ethereum (ETH) |
| Year launched | 2018 | 2008 |
| Transacations per second | Unlimited transactions per second | Limited transactions per second |
| Validating transactions | Validated by a peers' network without the need of miners | Validated on the bitcoin network by a random computer. |
| Nature of transactions | Run on individual chains | Run on the bitcoin blockchain that keeps tab of all transactions ever made. |
Holochain vs. Blockchain
Holochain price history
As is the case with other financial assets, price history is helpful for a viable Holochain price prediction. Its token was at a closing price of $0.0116 upon its launching in August 2021. It momentarily broke the resistance at $0.01200 in early September to hit a high of 0.01338.
As at late September, it was trading below its launching price at $0.0074. The subsequent trend reversal had it hit its all-time high of $0.0168 at the beginning of November 2021.
Since then, it has been on downward pressure; dropping below 0.0040 for the first time on record. Between early November and late January, HOT fell in value by 77.04% amid the sell-off that has shaped the cryptocurrency market in recent months.
Holochain price is currently hovering around $0.0050 as has been the case since late last week. This follows the rebound that had it hit its highest level since mid-January at $0.0061.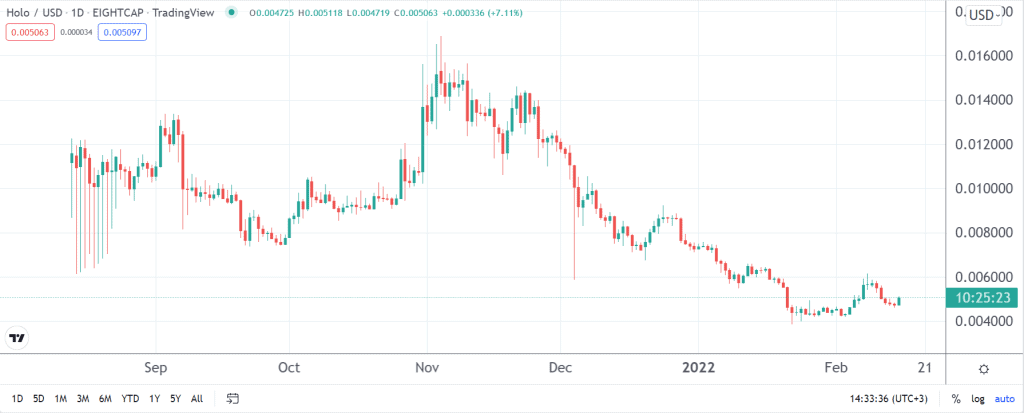 Holochain price prediction 2022
Holochain price prediction 2022 appears bullish as its adoption rate is expected to rise in coming months.From this perspective, HOTUSD may have reached its short and medium-term bottom at the all-time low of $0.003878 hit in the past month.
Nonetheless, it is important to acknowledge the high volatility associated with the crypto market. With this in mind, the forecasted rallying will likely be characterized by price swings.
Holochain price technical analysis
HOTUSD has eased on its rebound that extended for about a week. Granted, it has edged higher on Tuesday after dropping to a one-week low of $0.0046 on Monday.
On a daily chart, it is trading below the 25 and 50-day EMAs. Based on these technical indicators, Holochain price prediction for the short and medium term is rather bearish. While it may record significant gains in the foreseeable future, it will likely have its upward potential curbed.
In the short term, it may remain in its current range of between the 50-day EMA at $0.0058 and the support zone of $0.0040. Above the range's upper border, the bulls will have an opportunity to retest December's high of $0.0080.
Even with the predicted gains, Holochain price will likely remain below $0.0100 in coming months. On the lower side, $0.0040000 will likely remain a steady support zone. A move below that level would yield record lows as the bears eye $0.003000.

What will Holo be worth 2025?
Bitcoin is the leading cryptocurrency by market capitalization. Notably, other cryptocurrencies tend to follow the trend set by BTC. From this perspective, the BTC/HOT ratio is a helpful detail in Holochain price prediction 2025.
At the time of writing, Bitcoin and HOT were trading at $44,199.11 and $0.0050 respectively. Based on these figures, the ratio is 8,667,511.86.
Long Forecast predicts that Bitcoin price will reach $92,372 at the beginning of 2025 and drop to $58,326 by December.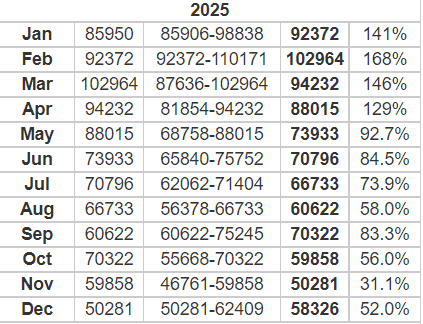 Assuming that the current BTC/HOT ratio will persist in coming years, Holochain price prediction 2025 is for the crypto to rally to $0.0106 in January. Subsequently, it may drop to $0.0067 by December.  
Holo price prediction 2030
As aforementioned, the BTC/HOT ratio is currently at  8,667,511.86. According to Coin Price Forecast, Bitcoin price will surge to $156,579 by mid-2030. It may then rise further to $164,408 by the end of the year.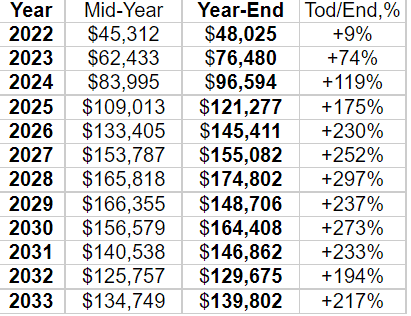 In line with the computed ratio, Holochain price prediction 2030 is for the crypto to rise to $0.0180 by mid-year before increasing its gains to $0.0189 by year end. Nonetheless, the viability of this HOT/USD forecast depends on the market trends and influential news.
Is Holochain a good investment
As part of Wallet Investor's holochain price prediction for the coming years, the digital asset's earnings growth is likely to increase by 132.5% in the coming year. By 2025, it forecasts an increase of 407.1% and 679.7% by 2027.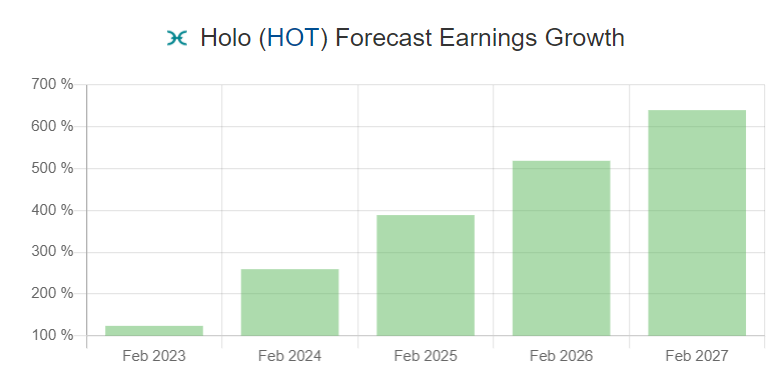 Coinpedia is also optimistic about an increase in its adoption rate. Based on these analyses, HOT/USD is a good asset to include in one's portfolio. Nonetheless, it is crucial to evaluate the market trends and conduct detailed fundamental and technical analyses before investing in this or any other financial asset.
Can Holochain reach $1?
Based on the Holochain price prediction incorporated in this article, Holochain will likely record significant gains by 2030. Indeed, a higher adoption rate is expected to boost is value in coming years.
Nonetheless, it may not hit $1 in the foreseeable future. At its current level of $0.005099, a surge to $1 would mean rallying by 19,611.68%. Even with the high volatility associated with the cryptocurrency market, the surge may not happen in the current decade.