Coinbase stock price is facing strong headwinds as the SEC keeps tightening its screws on the crypto businesses in the United States. The shares of the largest centralized exchange in the USA currently stand at a new 3-month low. At the time of writing, the shares of Coinbase are trading at $71.55 and are up 1.45% on the daily timeframe.
Bitcoin is not having a great time as it failed to break above the $27,000 price level once again. At press time, the largest cryptocurrency by market capitalization was trading 3.7% below that level. It is crucial for Bitcoin to show some signs of recovery for NASDAQ: COIN to see any upside in the coming weeks.
Coinbase To Start Lobbying for New Regulations
On Wednesday, Coinbase sponsored the travel of over 50 executives of different crypto projects. The centralized crypto exchange aims to start lobbying for the introduction of new rules and regulations in the field of cryptocurrencies. Coinbase stock price has suffered a lot due to the recent actions if the SEC against the exchange.
Coinbase Stock Price Outlook
Earlier in July, two major bills regarding cryptocurrency regulations were passed by the House Financial Services Committee. However, crypto lobbyists might find it difficult to convince Congress to pass these bills as they already seem to have a ton on their plate in the form of the Farm Bill and the National Defense Authorization Act (NDAA).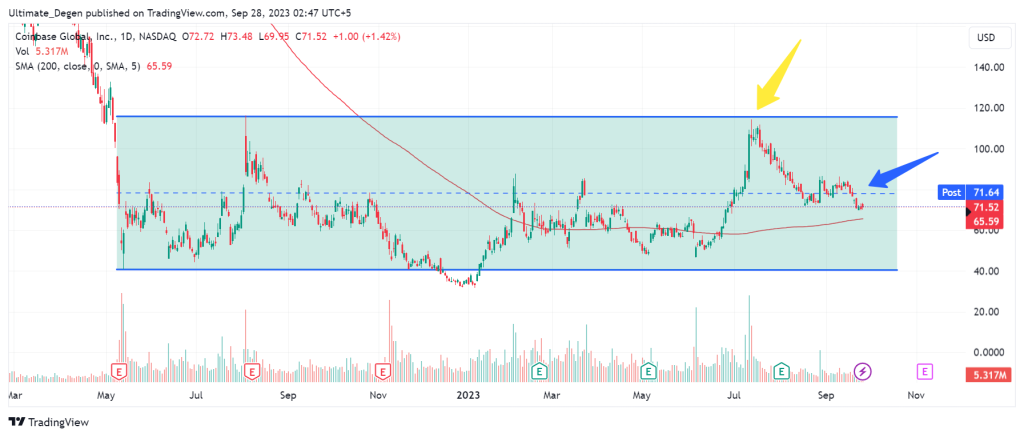 We can see on the above-mentioned NASDAQ: COIN chart that the price is still trading within the $40.5-$116 trading range. Currently, the share price is sitting 8.6% below the middle of the range. There is a strong chance of a retest of the 200 MA in the coming days.
The Coinbase stock price forecast will turn bearish on a higher timeframe if the price fails to find support on the 200 MA, which lies at $65.6. In this case, I expect the bears to target $40, which is the range low. For a bullish outlook, the price must reclaim the middle of the range, which is at $78.