Harmony (ONE) has skyrocketed within a span of one year. In 2021, it surged by over $6,000%. While it has been on downward pressure since then, analysts expect additional gains in coming years. The technical and fundamental analysis embedded in this article will be the basis of Harmony One price prediction for 2022 to 2030.
What is Harmony One?
Harmony is a layer-2 solution built on the layer-1 Ethereum network. The open blockchain focuses on two aspects; cost of transaction and latency. ONE is the Harmony blockchain's native cryptocurrency.
Is Harmony One a coin or token?
ONE is the utility token of the Harmony network. A key difference between a coin and a token is that the latter entity does not have individual blockchains. This means that a crypto token operates on a coin's blockchain. In the case of Harmony, it runs on the Ethereum blockchain. As such, Harmony One is a token and not a coin.
Harmony (One) price history
For a feasible Harmony One price prediction, focusing on technical analysis, it is crucial to analyze its past price patterns. The crypto's price chart recorded subtle movements between August 2020 and the beginning of 2021.
Notably, it entered 2021 on a positive note, surging by 760% by mid-February. While the bears momentarily pushed Harmony One price lower, the restoration of the rally had the crypto soar to an all-time high of $0.2252 in late March. In three months, the altcoin had rallied by 3,212.63%.
After the subsequent downtrend that pushed it to $0.0670, it surged again in mid-May to $0.1896. Finally, in June, the bears retested March's level of 0.0469.
Harmony One price reached a fresh record high of $0.3810 in October 2021. It ended the year at $0.2252. In 2022, the token has remained in the bull market despite the recorded price swings. Since the beginning of October 2021, it has been steady above $0.1500.
In the past month, the bulls attempted to retest the all-time high but lacked enough momentum. After hitting a 3-month high of $0.3711, it dropped to $0.1717 in early February. It is back below the psychological level of $0.2000 as the bulls lacked enough momentum to hit the upper target of $0.2500 in the past week. According to CoinMarketCap, Harmony One is ranked 51 in the crypto market with a market capitalization of $2.28 billion.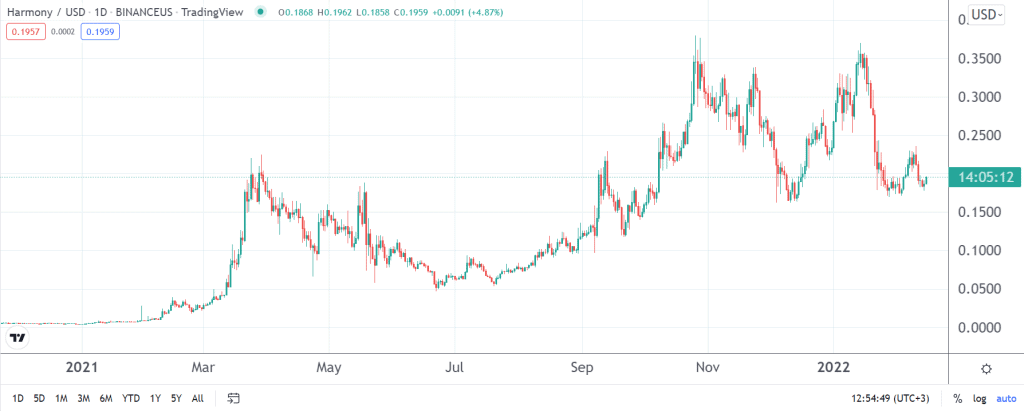 Harmony One latest news
In early February, Blitz Labs launched the Mainnet Beta version of the cross-chain loans protocol. The system allows individuals to present ether as collateral for a Harmony loan. This aspect will likely boost Harmony price in the short and long term.
Nonetheless, its uptrend may be curbed in the short term by the heightened concerns over inflation. Cryptocurrencies and other risk-on assets have been under pressure amid alarming inflation data. For instance, US consumer prices surged more than expected by 7.5%, the highest since 1982.
Harmony (One) price prediction 2022
One has been one of the fastest-growing cryptocurrencies since the beginning of 2021. In the coming months, the hawkish Fed's interest rate decision and overall inflation narrative will likely weigh on Harmony price, as may be the case with other cryptocurrencies.
Besides, even as it remains in the shadow of more popular dApps like Cardano, it may remain on the long-term uptrend that began a year ago.
Harmony price technical analysis
As aforementioned, technical tools are crucial for a feasible Harmony One price prediction on a short and long-term basis. A look at the daily chart indicates that the crypto is still trading below the long-term 200-day EMA. It is also below the 25 and 50-day EMAs. Based on these technical indicators, harmony price will likely have its upward potential curbed in the coming months.
If the bulls gather enough momentum to break past the 50-day EMA at $0.2250, $0.2500 will be the next target. However, in the immediate term, it will likely face resistance along the 25-day EMA at $0.2087.
As the year unfolds, the bulls will have an opportunity to retest and surpass the all-time high of $0.3794 as the bull's eye a fresh high of $0.5000.
On the lower side, $0.1500 will likely remain a steady support zone for the crypto. However, a move below this level will invalidate this bullish outlook.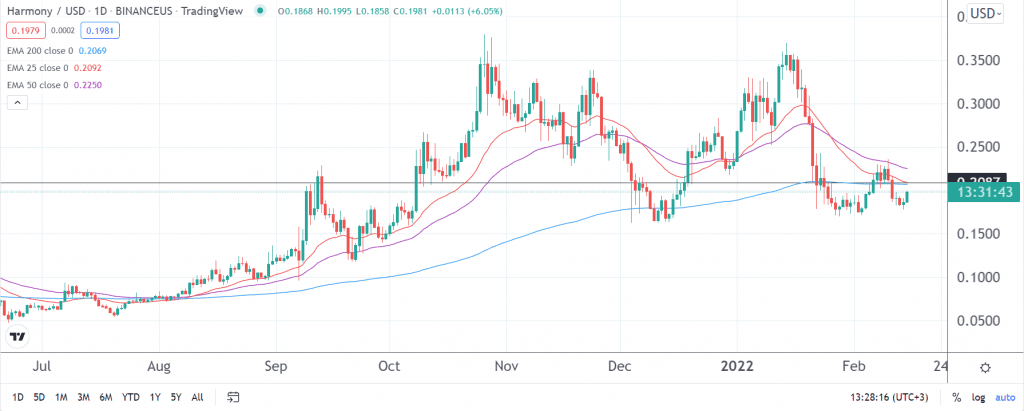 Harmony One price prediction 2025
Bitcoin, the leading cryptocurrency by market capitalization, often sets the path for other altcoins. Indeed, a comparison between a BTC price chart and an altcoin like One shows a high correlation. From this perspective, it is possible to conduct a feasible Harmony One price prediction 2025 based on the available BTC forecast.
The current BTC/ONE ratio is 224,598.67. According to Long Forecast, Bitcoin price will hit $92,372 at the beginning of 2025 and later drop to $58,326 by the end of the year.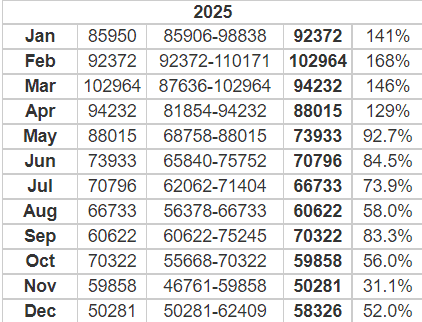 Based on these figures, the Harmony One price prediction for 2025 is relatively bullish. It will likely surge to $0.4112 in January. Then, as the year unfolds, it may fall to $0.2596.  
Harmony One price prediction 2030
Harmony One price prediction 2030 is an extrapolation of the figures forecast for 2025. As aforementioned, the current BTC/ONE ratio is 224,598.67. CoinPriceForecast forecasts that Bitcoin price will hit $155,307 in Mid-2030 and rally further to $163,072 by year-end.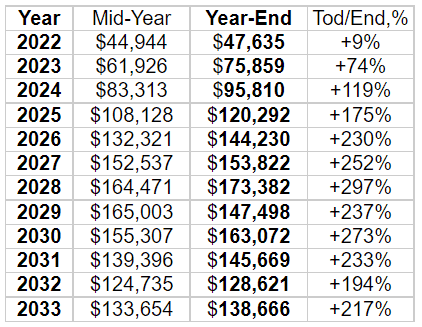 Assuming that the current BTC/ONE ratio will continue further into the decade, Harmony One price prediction 2030 is for the crypto to hit $0.6914 in mid-2030 and higher up to $0.7260 by the end of the year.
While the long-term analysis is viable, the crypto market is characterized by high volatility and price swings. Therefore, it is crucial to constantly evaluate the market trends and stick to the formulated trading strategies.
Will Harmony One reach a dollar?
Harmony is about 1,951.48% higher than its level a year ago at its current price of $0.1956. Notably, it has held steady above the psychological level of $0.1000 since rallying past it five months ago.
As part of its Harmony One price prediction for 2022 and beyond, Wallet Investor is bullish on crypto and expects the overall uptrend to extend into the coming years. Indeed, it forecasts that Harmony One will reach a dollar as its maximum price in December 2024.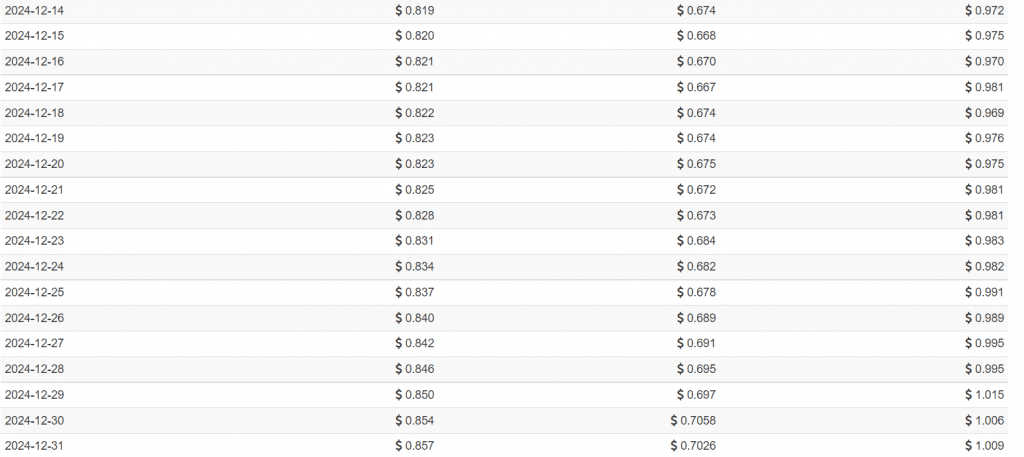 Is Harmony One a good investment
Last year, Ethereum's gas fees soared to a record high. Notably, Harmony is characterized by low costs and latency. These features will likely increase its adoption rate in the long term, an aspect that will probably boost Harmony price.
However, even with this bullish Harmony Once price prediction, it will likely continue to face high competition from popular dApps like Cardano and Solana.
Where to buy Harmony (One Coin)
One can buy Harmony (One) via a cryptocurrency exchange like other cryptocurrencies. Renowned exchanges supporting the token include Crypto.com, Huobi, and Binance.
Before selecting a crypto exchange to buy Harmony, comparing the embedded fees and the ease of using each option is important. Subsequently, create an account with the selected exchange. Upon verifying your account, you will be able to deposit funds and purchase the crypto.