The GSK share price has pushed up from its intraday lows after the company denied weekend reports of a takeover bid for Aurinia Pharmaceuticals.
The Mail on Sunday had reported that the UK healthcare giant was readying a bid for Aurinia. Aurinia is heavily involved in research to develop new treatments for renal and autoimmune ailments. However, Reuters news agency is quoting an email from a GSK spokesperson, which denied the report.
The GSK share price has been on the uptrend after reports that its consumer division was stoking interest from several companies in what could be the biggest buyout of all time. However, the denial of any moves to buy Aurinia has not dented the stock's potentials, as it has pushed off from intraday lows to target new 2021 highs.
GSK Share Price Outlook
The GSK share price has violated the 18 August 2021 high to form a new yearly high at 1555.2. This position puts the stock on course for a retest of the previous lows of 10/20 July 2020 at 1568.4. A further advance brings 1598.4 (1 Mat 2020 low) and 1616.8 (12 August 2020 high) into the picture.
On the flip side, a retracement dip targets 1497.2 (7 September high), with 1470.4 and 1450.0 forming additional dip-buying targets. Only a decline below the latter changes the sentiment in the market, with more selling giving the bears a chance to aim for 1415.0 and 1382.6.
GSK: Daily Chart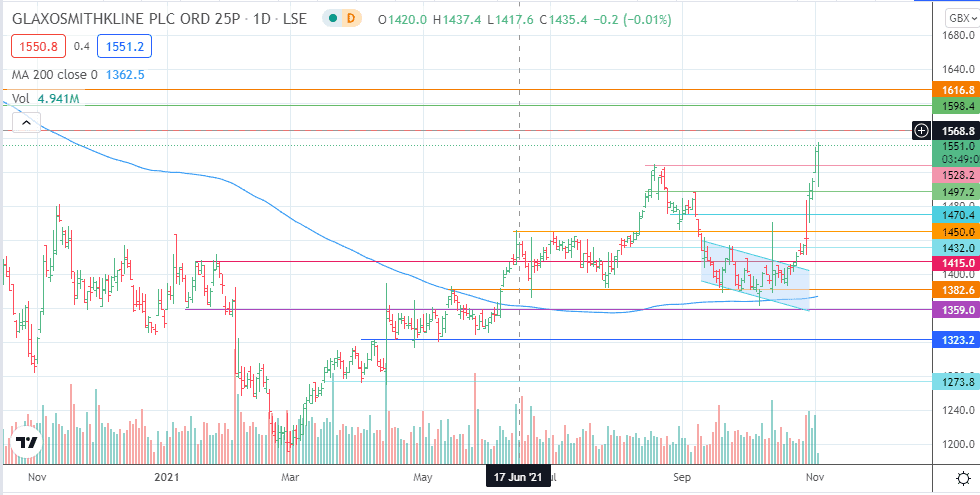 Follow Eno on Twitter.