The GSK share price has arrested the slide temporarily, posting a 0.1% gain this Tuesday following some upbeat news concerning its subsidiary company's candidate for HIV prevention. 
According to the company, the FDA has granted priority review VIIV Healthcare's new drug application for antiretroviral drug candidate Cabotegravir. This drug is to be used for HIV prevention, and VIIV healthcare will initiate submissions of this drug to other pharmaceutical regulators by the end of the year.
GSK owns 76.5% of VIIV Healthcare, with Pfizer (13.5%) and Shionogi (10%) being the other shareholders in the company.
GSK Share Price Outlook
The intraday bounce requires additional bullish momentum to aim for the 1415.0 resistance. Above this resistance level, other targets lie at 1432.0 and 1450.0. These barriers must be uncapped before 1470.4 and 1497.2 (7 September high) become visible once more.
On the flip side, a breakdown of the 1382.6 support allows the bears to target 1359.0. If the decline below this new target continues, 1323.2 comes into the picture. 1273.8 is a downside target that is presently out of range but becomes available if the bears continue their onslaught to the south.
GSK Share Price Chart (Daily)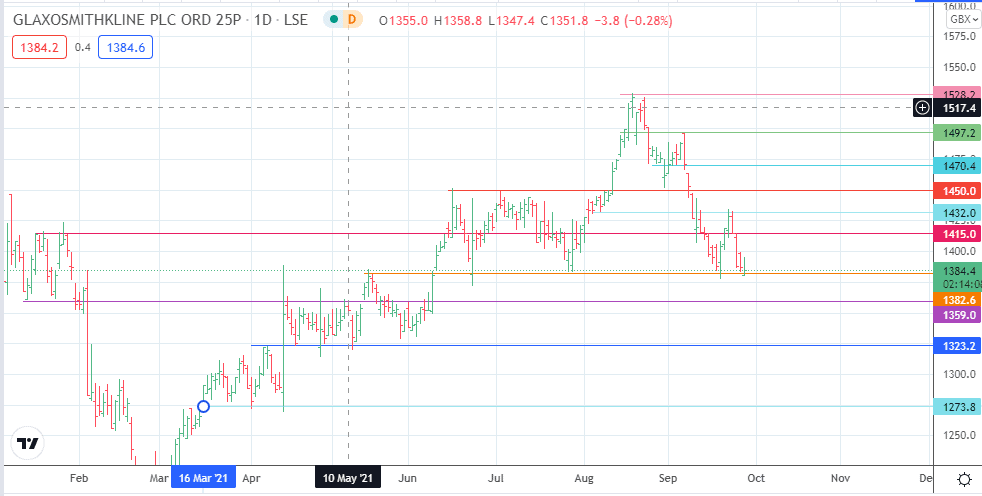 Follow Eno on Twitter.