Greatland Gold share price has tumbled in the past few months as commodity prices tumble. GGP stock was trading at 7.3p, which is the lowest it has been since September 2020. It has fallen by more than 81% from its highest level in 2021. This drop brings its market cap to more than 333 million pounds.
Gold and copper prices slip
Greatland Gold is a mining and exploration company with operations in Western Australia. The firm has a stake in a mine that has substantial gold and copper deposits at Havieron. It also has other assets in Juri, Scallywag, Panorama, Ernest Giles, Rudall and Canning, and Bromus among others.
Recently, however, these metals have crashed, with gold falling by 20% from the highest level this year while copper has fallen by over 30%. 
These metals have formed double-top patterns, signaling that they could continue falling in the near term. With the US dollar strength continuing, most metal prices will remain under intense pressure, which could hit Greatland Gold.
Still, there are several catalysts for Greatland in the coming months. For example, it recently added three new directors – Mark Barnaba, Elizabeth Gaines, and James Wilson – as it continues its transformation. The firm also raised A$220 million in debt from banks like ANZ, HSBC, and ING.
It also raised equity funding from Wyloo Metals and Tribeca. Wyloo Metals is owned by Andrew Forrest, the second-richest Australian. As I wrote recently, there are chances that the company could acquire Greatland.
Greatland Gold share price forecast
The daily chart shows that Greatland Gold stock price has been in a strong bearish trend in the past few months. In this period, it has formed a descending channel shown in green. It has crashed below the 25-day and 50-day moving averages while the Relative Strength Index (RSI) has moved to the oversold level.
Therefore, it seems like the bearish trend will continue as sellers target the next key support level at 6.5p. The stop-loss for this view will be at 8p.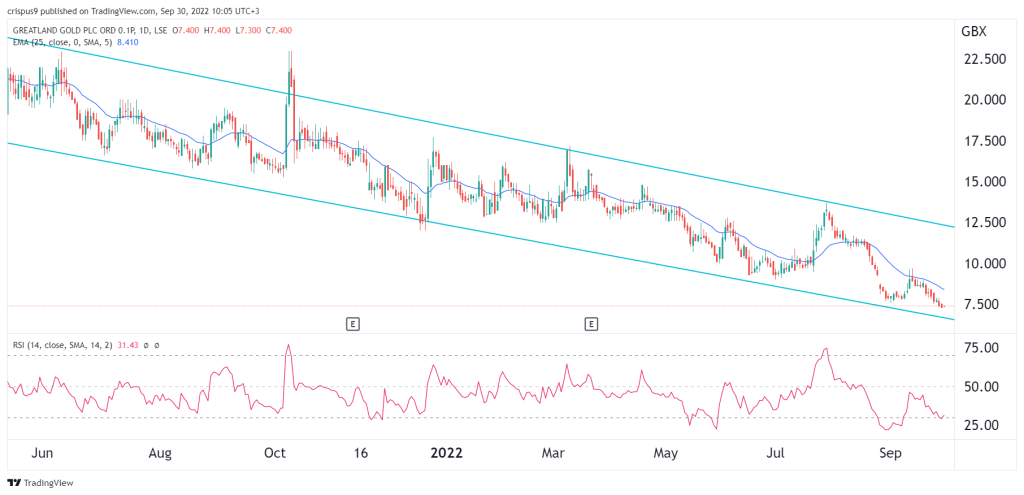 An earlier version of this article said that Greatland Gold is already producing gold and copper. We have corrected the report to indicate that the firm has a 30% stake of what may turn out to be the biggest gold deposit.