The Greatland Gold share price has been in a strong bearish trend in the past few months as commodity prices retreat. As a result, the GGP stock price has tumbled by more than 74% from its highest point in 2021, bringing its total market cap to more than 414 million pounds.
Greatland Gold is an Australian gold and base metal mining company that is listed in London. The company's key project is the Havieron gold and copper deposit that is currently under development with its joint venture with Newcrest Mining.
The firm also runs other sites in Western Australia and Tasmania. These projects are in Juri, Scallywag, Rudall and Canning, Ernest Giles, Panorama, and Bromus. In a recent statement, the company said that it was continuing with its drilling program at the Havieron gold-copper project in Western Australia. The drilling advanced by more than 377 meters last month.
The goal is to start commercial production in 2023-2024 financial year. The company's CEO said: "With an extensive growth drilling program planned over the next 12 months, there is tremendous potential to further expand the Havieron resource and unlock the true scale and value of the broader system."
Meanwhile, the company announced that it had started its 2022 exploration project under the Juri Joint Venture in partnership with Newcrest Mining. Part of the ongoing highlights is the drilling of priority targets, aerial and ground electromagnetic data, and soil sampling. The chart below shows the company's five-year strategy.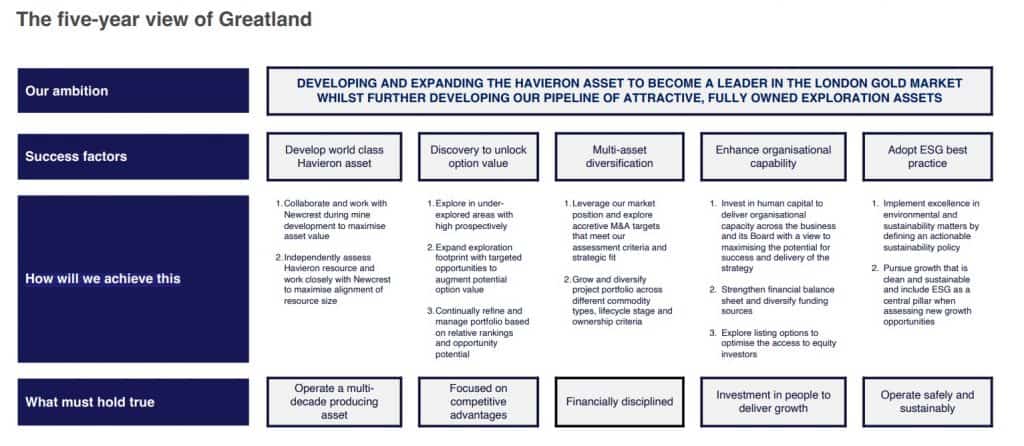 Greatland Gold share price forecast
The daily chart shows that the GGP share price has been in a strong downward trend in the past few months. The stock has crashed by more than 74% from its all-time high. Along the way, it has formed a descending channel that is shown in red and moved below the 25-day and 50-day moving averages.
The stock is now slightly above the lower side of this channel, while the Relative Strength Index (RSI) has moved slightly above the neutral point at 50.
Therefore, with gold and base metal prices retreating, there is a possibility that the bearish trend will continue in the near term. If this happens, the next key support level to watch will be at 8.50p. A move above the resistance at 11p will invalidate the bearish view.