After a strong showing on Tuesday, the Greatland Gold Plc share price found itself in a losing position as Wednesday's trading session progresses. Tuesday's slump in gold prices is being blamed for the negative performance on the day by the Greatland Gold Plc share price. Gold prices fell 1.43% on Tuesday and negatively started the current trading day, sending it marginally lower by 0.03%.
The Greatland Gold Plc share price continues to trade in a sideways trend after investors were left in the cold from following a downbeat earnings report. Unfortunately, the negative sentiment around that report dwarfed any bullish sentiment that could have arisen from its substantial exploration targets in Australia and several other locations.
On the day, a lack of fundamental triggers has left the price activity struggling in a consolidation bordered by Tuesday's high at 14.80 and the intraday low at 13.84. The Greatland Gold Plc share price is down 3.78% as of writing.
According to a poll of institutional analysts, the Greater Gold Plc share price targets over 12 months has been set to 25.50p. The upper target of the price band is 26p, while the lower target is set to 25p. This leaves the stock with a potential upside of 78.82%, making the current price levels attractive for investors with a medium-term outlook.
Greatland Gold Plc Share Price Outlook
The 4-hour chart shows that the intraday price action remains in the range, bordered by 14.80 and 13.84. The Greatland Gold Plc share price activity must transcend beyond the 14.80 ceiling to make 15.39 accessible. 16.04 (3 February and 10 March 2022 highs) and 17.03 (23 December 2021 high) are additional price targets to the north that enter the picture if the bulls push the advance beyond 15.39.
Conversely, a decline below the 13.84 price floor opens the pathway toward the 13.14 support (14 February, 4 March and 12 April 2022 lows). Then, additional support comes in at 12.51 (21 December 2021 and 2 March 2022 lows). Finally, the 12.00 psychological support, formed by the previous lows of 16 December/20 December 2021, makes up the short-term targets to the south.
Greatland: 4-hour Chart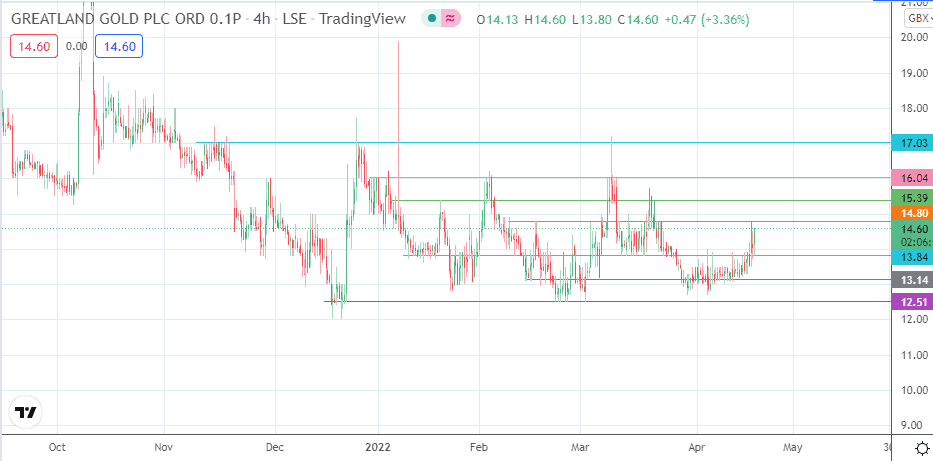 Follow Eno on Twitter.