The GlaxoSmithKline share price has had a stellar run in recent times, enjoying a 7-day winning streak before profit-taking created a mild correction in price activity. What has been responsible for the GlaxoSmithKline share price increase seen in recent days? A two-fold fundamental trigger appears to have spurred the renewed buying spree seen in the stock. 
First, the company expanded its product lines to treat haematological cancers by acquiring late-stage biopharma company Sierra Oncology for $1.9 billion in an all-cash deal. Sierra had provided upbeat topline results from clinical trials of its candidate for the treatment of myelofibrosis. The candidate, momelotinib, was effective in treating anaemia and splenic response in bone marrow cancer patients.
The second trigger was the FDA's acceptance of GSK's application for daprodustat, a treatment for anaemia in patients with chronic kidney disease. Daprodustat showed the ability to improve or maintain haemoglobin levels in phase 3 clinical trials without major adverse cardiovascular side effects.
Before developing this drug, the only way to treat these patients was via erythropoietin injections and blood transfusions. The GlaxoSmithKline share price has had a 7-day winning streak before the onset of the correction on 14 April.
GlaxoSmithKline Share Price Outlook
The doji candle on the 1793.4 resistance line indicates that the uptrend has stalled and a correction is due. This correction will first touch the 1737.2 support level (17 January high in role reversal). If there is a breakdown of that support, additional targets at 1695.4 (17 January and 6 April lows) and 1664.0 (5 April low) will become available. 1627.4 and 1598.4 round off potential downside targets for the short term.
On the flip side, a bounce at the 1737.2 support, which takes the price activity past the 1793.4 resistance, will find 1850.6 (20 December 2019 and 17 January 2020 highs) in its pathway as the next resistance. The 22 November 1999 high at 1973.0 is a multi-year target that becomes available if the bulls can uncap the barrier at 1850.6. The 20 November high at 2126.6 will also need to be uncapped before a serious push towards the all-time high seen in January 1999 at 2333.0 is achieved.
GSK: Daily Chart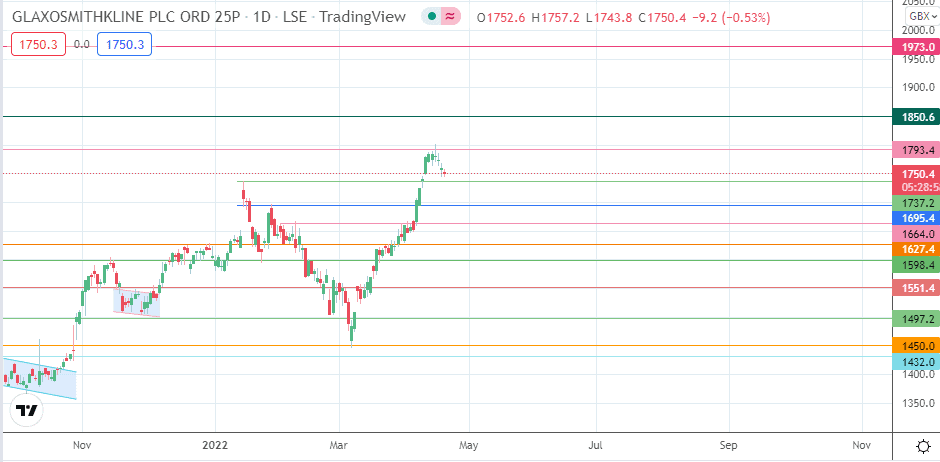 Follow Eno on Twitter.