Genedrive share price has been in a freefall in the past few months as concerns about the company rose. The GDR stock plunged to a low of 9.65p, which was about 97% below its all-time high. The penny stock has seen its total market cap plunge to just 8.85 million pounds, making it one of the smallest publicly traded companies in London.
Soaring losses at the diagnostics company
Genedrive is a small molecular diagnostics company that provides its solutions at the point of care. It offers a low-cost, rapid, versatile, and simple-to-use diagnostics platform that is used in genotyping and pathogen detection. The product is also used for infectious disease detection. Some of the illnesses it seeks to detect are antibiotic-induced hearing loss, Covid-19, and HCV infections among others.
Genedrive share price has collapsed in the past few months as concerns about the industry remains. Its total revenue has collapsed from more than £1.3 million in 2020 to just £0.05 million in 2022. Administration costs, including salaries, rose to more than £1.8 million in 2022. This is a major red flag for the company.
As a result, the operating loss ballooned from £5.5 million in 2021 to £5.6 million in 2022. Further, its Research and Development costs dropped to £3.9 million as the company implemented tight cost control in the second half of the year.
Genedrive is a cash incinerator
These numbers mean that Genedrive is a cash incinerator. Indeed, it ended its financial year with just £4.3 million in cash, which was higher than £2.6 million it had at the end of 2021. Still, this is not a sign that the situation is improving. Instead, the jump in cash balance was because of a £6 million equity in 2021 and these funds are running out fast.
Therefore, I suspect that the cash burner will remain on for a while since the company's revenue growth is inexistent. The situation would be much better if the stock was higher. Now, with the shares trading close to an all-time low, it will struggle to use its equity to raise cash.
Genedrive share price forecast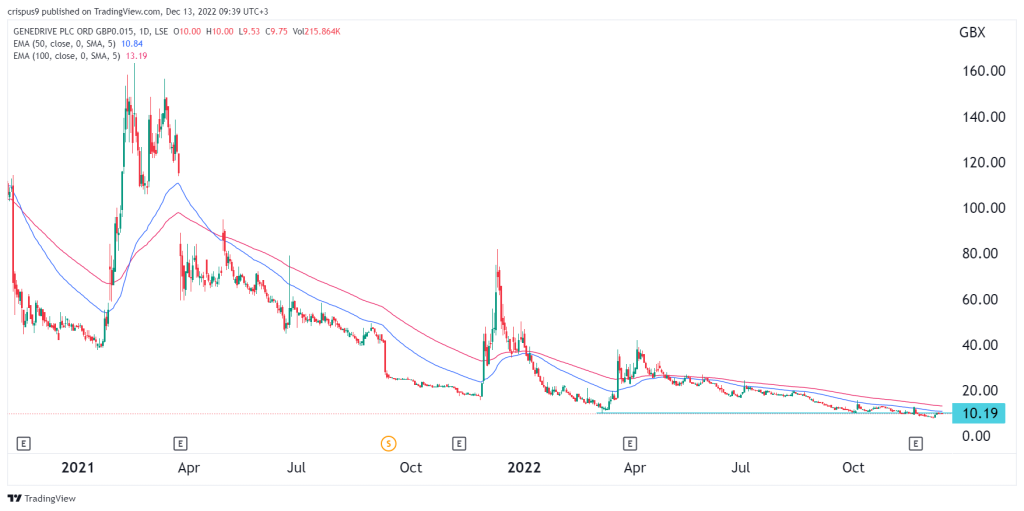 The daily chart shows that the GDR stock price has been in a freefall in the past few months. The current price is close to where it has been in the past few weeks and is at the lowest level on March 8. It has moved below all moving averages while the Awesome Oscillator has drifted lower.
Therefore, the stock will likely continue crashing as bankruptcy risks rise. This could see it crash to a low of 5p in the coming weeks.