GBP to INR (GBP/cINR) is once again facing headwinds as the Indian Rupee continues to show strength. The pair showed a rebound on Friday as it closed the last trading session with a 0.62% gain. However, the tables turned on Monday once again.
At press time, the British pound to Indian rupee exchange rate stood at 100.94, which is just a few cents above last week's low. On a daily timeframe, the pair showed a decline of 0.46%. The strength shown by the Indian rupee can be due to multiple factors, which are discussed below.
Pound Tanks As Dollar Extends Gain
The latest drop in GBP to INR rate can be attributed to the weakness in the British pound in terms of the US dollar. Despite a falling PCE inflation at the end of last week, the US dollar surged on Monday. The DXY index soared above 106.7 points after a brief rebound at the end of last week.
Although the Indian rupee fell 0.15% against the dollar, it still remained outperformed the British pound. GBP/INR pair may correct more in the coming days as the Federal Reserve of India remains committed to keeping the USD/INR stable.
GBP To INR Technical Analysis
On a daily timeframe, the pound to rupee exchange rate has plummeted below the 200-day moving average. This has made the GBP to INR forecast extremely bearish. The 200 MA acts as a strong indicator of the direction of the trend. As long as the dollar continues to surge, the British pound will continue to face headwinds.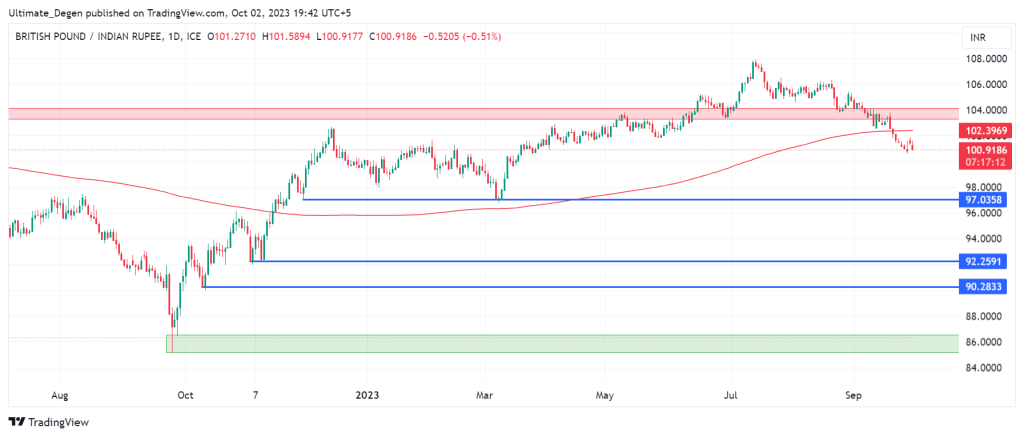 Another factor that plays a key role in keeping the Indian rupee strong is the intervention of the Indian central bank. The Reserve Bank of India starts to offer dollars to keep the exchange rate stable whenever rupee weakness in the international market. These measures have minimized the impact of rising dollar strength and soaring oil prices.
You are also welcome to follow me on Twitter to keep track of my personal trades and the latest analysis on the forex pairs.