The Gazprom share price will end the week sharply lower, down by more than a third of its original value after the Russian invasion of Ukraine. Gazprom, a Russian energy conglomerate, supplies Europe via a pipeline that passes through Ukraine. Investors got spooked by the conflict, which has ramifications on gas supplies to Gazprom's European consumers, especially if the Ukrainians decide to tamper with supplies in some manner. 
Gazprom latest news
In response to the conflict, Germany declined to assent to the construction of the Nord Stream 2 pipeline. This comes as the UK also calls for other nations to follow suit. The Nord Stream 2 pipeline has been designed to bypass Ukraine and cut off the transit fees the country charges for Gazprom's current transit pipelines, instead of tracing a route through the Baltic Sea to While Gazprom hardly felt any economic pinches in 2021 due to rising prices. The conflict has precipitated a massive selloff in the Russian stock market, and the Gazprom share price has felt a significant impact.
Gazprom Share Price Outlook
The steep decline on the active weekly candle was followed by a bounce off the 127.30 support (9 April 2018 low). This bounce has cleared the resistance barriers at 150.71, 171.60, and 194.17. However, it failed to clear 207.55, which now serves as the resistance barrier to beat. If this resistance holds into next week, new targets to the south will include the former resistance price points mentioned.
Conversely, a break of 207.55 brings 220.92 into the picture. 2401.5 and 271.08 are resistance barriers that become viable if the recovery advances beyond 207.55, with 300.00 serving as a psychological target (23 August 2021 high).
Gazprom: Weekly Chart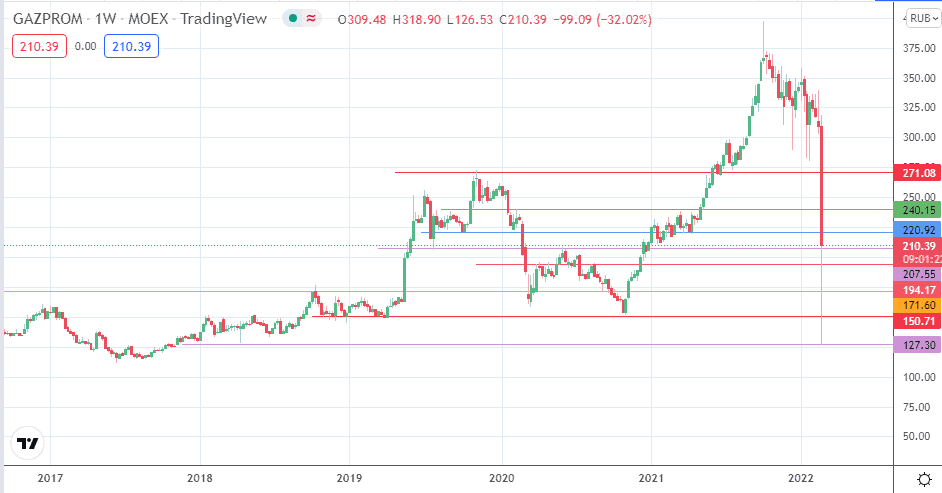 Follow Eno on Twitter.