The next few days seem critical for Gala Crypto price prediction. The price is testing the trendline that started in November 2021 once again. Previously price has bounced off the same trendline multiple times; however, such bounces have been short-lived. If the price breaks below this trendline, things could turn ugly for Gala coin price. The Gala token needs to make a higher high than $0.28 very soon to boost investors' confidence.

What is Gala Games?
Play to Earn, and Metaverse has emerged as one of the most hyped sectors in crypto land. The pioneering P2E model of Axie Infinity became very successful, and it brought millions of new users into crypto. The game became so popular that many people started to make a living out of it. Gala Games targets the same demographic of users. However, unlike Axie Infinity Gala Crypto aims to become an ecosystem of games.
The whole ecosystem will be governed by the Gala token.  Gala plans to launch its own side chain where the native Gala token will be used for transactions. At the moment, Gala coin is required to run Gala nodes and to buy NFTs by Gala Games. Anybody can get a license to run a Gala founder node by paying 16500 Gala tokens. As per Gala Team, a total of 50,000 Founder Nodes would be enough to handle 100 million gaming users. At the time of writing, 25,631 nodes are online.
Project Founders & History
The project started in 2019 when Blockchain Game Partners Inc. was established. The founders of Gala Games include Eric Shiermeyer, Michael McCarthy, and Wright Thurston. Eric is the current CEO of Gala Games while Michael holds the title of the President of Games. Jason Brink is like the face of the company being the Chief Marketing Officer (CMO) of Gala Games.
The project aims to become the biggest ecosystem of games by ultimately launching Gala side chain. Gala Team funded the initial development themselves. The origins of Gala tokens can be tracked back to 2020. Around 25 billion tokens were unlocked in the first year i.e. from July 2020 to July 2021. The emission schedule of Gala states that the number of unlocked Gala coins would reduce by half every year.
Latest Gala Crypto News
GALA is the native token of the Gala Games ecosystem, and it is already one of the most valuable gaming coins. As per the latest Gala crypto news, it has currently 1.3 million active users. The official site also states that the project has already sold more than 26,000 Gala NFTs. Most of these NFTs belong to 2 games, i.e. Townstar and Spider Tank. Both of these games are in Beta. Many more games like Superior, The Walking Dead Empires, and Legends Reborn are also in development. Gala crypto price may increase with the success of all these games.
The project has also locked key partnerships with Polygon Network and Flair Network. Both of these networks provide much cheaper transactions than Ethereum.
Gala Crypto Price Prediction 2022
At the time of writing, Gala price is trading at $0.236. Crypto markets have been in a significant downtrend since the start of the year. The ongoing clash in Eastern Europe has further intensified the bearish sentiment. As a result, the Gala coin price is also more than 72% down from its November 2021 ATH of $0.82. Technical analysis of Gala chart shows that despite the bearishness, the price has not broken the uptrend. Price has bounced off the trendline multiple times; however, it is still hovering around the same level.
The price needs to reclaim the $0.38 level in the short term to aim for further upside. If Gala Games' price successfully flips this level, a conservative target of $0.60 seems quite likely. On the other hand, if Bitcoin price sees another leg up, then Gala coin may also hit another ATH this year. In such an event, $1.26 seems to be a valid Gala crypto price prediction for 2022. This level is also in alignment with the 1.618 Fib retracement level. However, this level only comes into play if the price doesn't make a lower low than $0.15.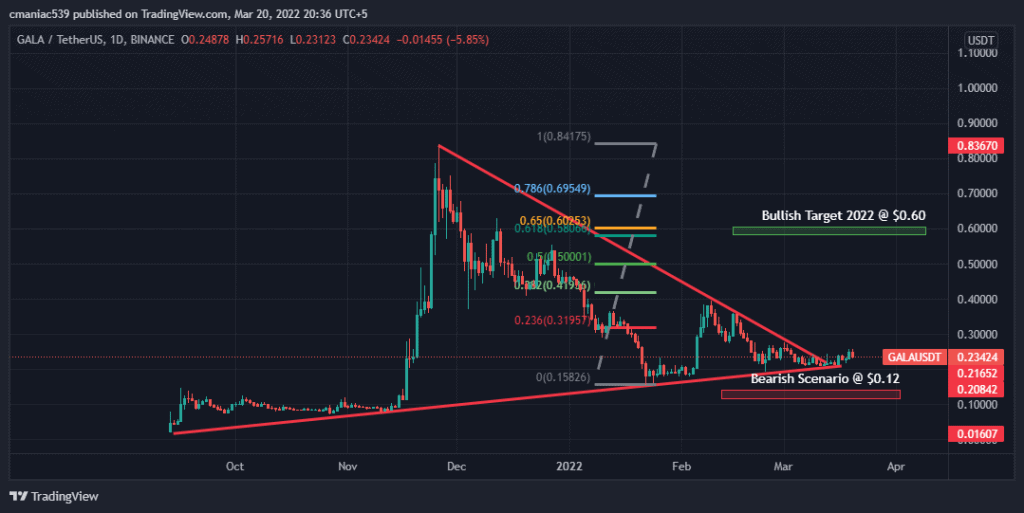 On the other hand, things could turn very ugly for Gala token if the price breaks below the trendline. This could make a price level of $0.12 a possibility.
Gala Crypto Price Prediction 2025
Like other assets, crypto prices also depend on the broader global economic situation. Many people attribute the last year's insane growth in crypto to the constant money printing by US FED. The announcement of rates hike has badly affected the markets, signalling an era of quantitative tightening. Nevertheless, crypto gaming is a sector that appears to be less vulnerable to such events. This is because crypto gaming is still an untapped market, and there is massive room for growth.
Many crypto analysts are of the opinion that crypto gaming and metaverse could hit a market cap of $1 Trillion by 2025. If this becomes a reality, then Gala crypto price prediction 2025 comes out to be very bullish. For example, if Gala becomes a top gaming ecosystem as its team envisions, Gala's price might target $2.6 by 2025. This would mean an 11x increase from current levels.
Is Gala Crypto a Good Investment?
Although crypto gaming exploded last year, it still lags in development. Most of the crypto games that are playable right now are very basic and unable to compete with mainstream games. Nevertheless, many AAA crypto games are also in development by different projects. Therefore, gala Games must also focus on fewer games with quality rather than developing many little games.
Since Gala Games is an ecosystem of games, even the success of a single game could send its price stellar. However, the project is still at a very nascent stage, and any major investment at this stage is risky. A better idea would be to add Gala Crypto to a crypto gaming portfolio that consists of multiple coins. In this way, one could get better exposure to crypto gaming by investing in various projects.