The FTX token price surged to an all-time high of $82.36 as investors remained optimistic about the ecosystem. The FTT crypto price has jumped by more than 1,000% this year, becoming one of the best performers. The total market cap of the FTT has jumped to more than $7.6 billion, making it the $26th biggest cryptocurrency in the world. It sits between Theta and Tron.
Why FTT is rising
There are several reasons why the FTX token price is soaring. First, last week, the company behind the token acquired LedgerX, a company in the crypto derivatives industry. While the total value of the transaction was not revealed, many analysts expect it to be in the tens of millions of dollars. As such, analysts expect that the total volume of transactions in the FTX marketplace will keep rising.
Second, the FTX token price is rising as investors cheer the company's forays into the non-fungible token (NFT) industry. The company announced that it was possible to trade and mint cross-chain NFTs in its marketplace. As such, investors expect that this will lead to more demand.
Finally, the coin is rising because of the overall demand for cryptocurrencies and the rising volume. Besides, Ethereum is approaching its all-time high while Bitcoin is comfortably above $51,000
FTX Token price prediction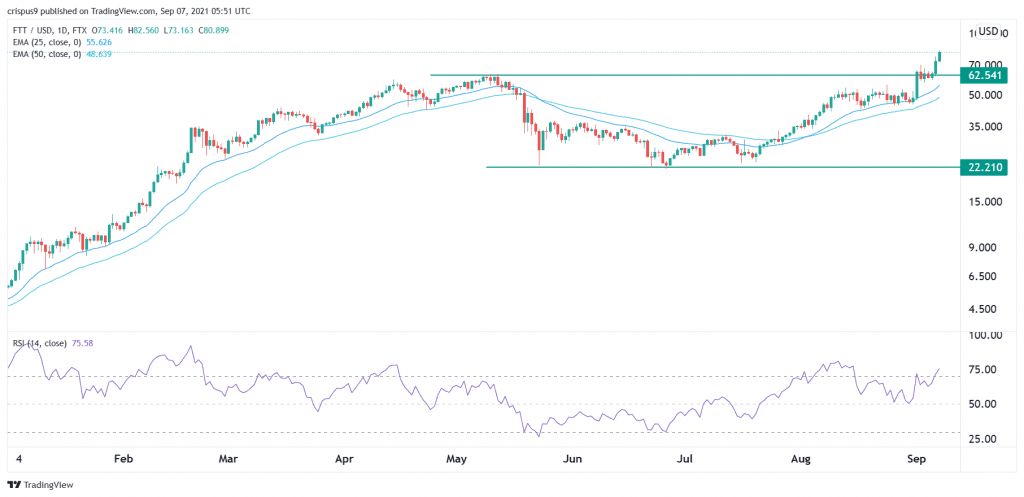 The daily chart shows that the FTT price has been in a bullish trend in the past few weeks. It has risen in the past three straight days and it's momentum is increasing. Most notably, it has already moved above the key resistance level at $62, which was the previous all-time high. It is also being supported by the 25-day and 50-day exponential moving averages.
Therefore, the coin will remain in a bullish trend so long as the price is above the two moving averages and the key support at $62. Still, in the near term, a break and retest move back to $62 can't be ruled out.