The FTSE 100 and the FTSE 250 indices will be in the spotlight as the pound sterling crashed to an all-time low against the USD. Futures tied to the footsie diverged with their American counterparts as they jumped by 50 basis points on Monday morning. They were trading at £7,090, which was much higher than last week's low of £6,980.
Pound sterling crashes
The FTSE 250 and FTSE 100 indexes are under intense pressure after Kwasi Kwarteng announced a series of tax cuts that are intended to spur UK competitiveness in the global market. Historically, investors and businesses prefer lower taxes, which explains why UK stocks have outperformed the Dow Jones and the S&P 500 in the past few days.
The falling pound will have a major implication for companies in the FTSE 100 and FTSE 250 indices. For example, retailers like Tesco, Marks & Spencer, and Ocado will likely struggle to import products as the pound crashes. As a result, with inflation at historic highs, there is a possibility that their growth will worsen in the coming months.
Other companies that will be hit include airlines like IAG, EasyJet, and Wizz Air. These firms will struggle because of jet fuel, which sells in US dollars. Other giant industrial companies like Melrose and Rolls-Royce Holdings will also be affected.
On the other hand, some companies will benefit from the crashing pound sterling. Oil and mining firms that do business in US dollar and report in sterling will likely report positive results in the coming months. The next key FTSE 100 and FTSE 250 stocks to watch this week will be Boohoo and Cineworld, which will publish their financial results.
FTSE 100 forecast
The FTSE 100 index has been under intense pressure in the past few weeks. It has fallen by more than 6% from its highest level this month. Along the way, the index has moved below the important support levels at £7,138 and £7,327. The index also moved below all moving averages while the MACD has moved below the neutral point.
Therefore, there is a likelihood that it will resume the bearish trend as sellers target the crucial support at £7,000. A move above the resistance point at £7,138 will invalidate the bearish view.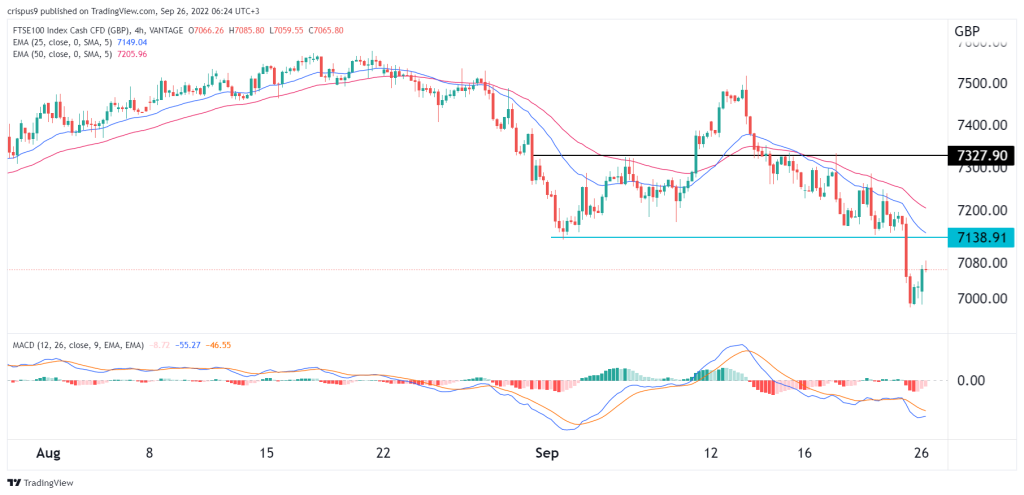 FTSE 250 forecast
The daily chart below shows that the FTSE 250 index has been in a steady bearish trend recently and is now at the lowest point since 2020. It crossed the important support level at £18,307, which was the lowest level on July 4. Also, it has fallen below the 25-day and 50-day moving averages.
Therefore, the index will likely continue falling as sellers target the next key support at £17500. A move above £18,300 will invalidate the bearish view.