The Fantom price prediction indicates that the market is due for a correction after a price advance that has lasted for close to four months. However, the rejection of the decline by the bulls on Wednesday indicates that the market may still be holding out for some additional near-term gains.
The FTM/USDT pair fell 8.06% on Wednesday, extending the 9.36% drop on Tuesday. However, the bulls strongly resisted the decline, which had touched off the 2.3172 price mark. Despite the progressively lower tops, which indicate a strong potential for correction, bullish interest in the FTM/USDT pair has to wane before any corrective decline comes to play.
Fantom Price Prediction
The FTM/USDT daily chart shows a double top, with price violating the neckline briefly before the bulls pushed back aggressively above it. This neckline remains under pressure. If the bulls fail to defend it, a definitive breakdown confirms the pattern and opens the door to a potential measured move towards 1.9369. Attainment of this measured move has to follow a break of Wednesday's support at 2.3172. A further extension of this corrective decline targets 1.6494 (11 September 2021 high).
On the flip side, failure to break down the 2.6196 neckline allows the bulls to push towards 3.0000, psychological resistance and the site of previous highs of 30 October and 10 November. Only a break of the lower of the two double tops allows for a potential recovery towards 3.5000. A break of this higher peak takes the FTM/USDT to new highs and invalidates the pattern. 
FTM/USDT: Daily Chart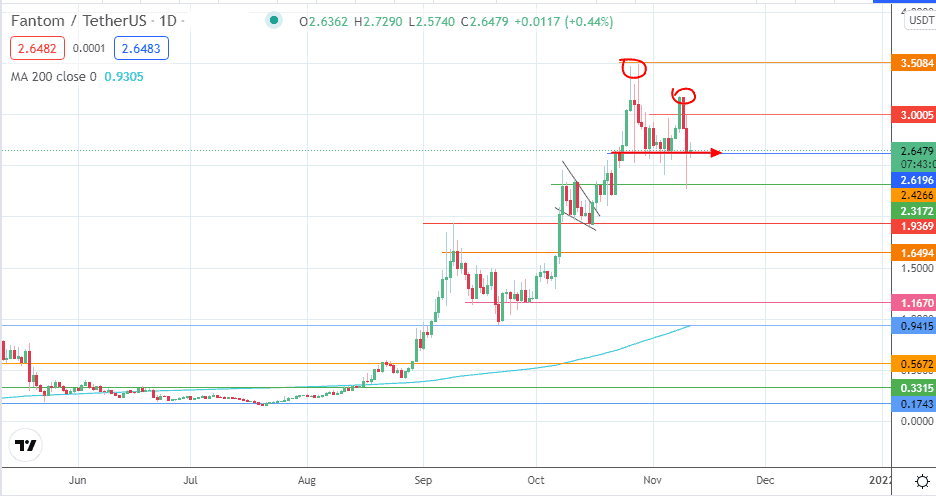 Follow Eno on Twitter.