Our FEG coin price prediction depends on the price breaking out of the descending triangle. FEG Token has been trading inside this pattern since making the highs of $0.00000001186 in November 2021. After a successful launch last year, the FEG coin became one of the most hyped memecoins. A few months after its launch, it touched the ATH of $0.00000004550 in May 2021. However, it has been in a severe downtrend since then.
Latest FEG Coin News
Although the FEG coin started as a memecoin, the team appears to be active on the development side. FEG Crypto has already rolled out products like FEGEX, Token Template, FEG Radio and FEG Tracker. Some of these products, like FEGEX, have given some utility to FEG token by giving its holders passive income opportunities. FEG is available on Ethereum and Binance Smart Chain.
Before moving on to our FEG coin price prediction, let's look at its token mechanics. FEG coin started as a fork of Reflect Finance and aims to combine the features of Reflect and Shiba Inu. The in-built feature of Feed Every Gorilla coin deducts 2% out of every transaction. 1% of this is burned, and 1% goes to the FEG holders. In this way, you can earn more FEG tokens just by holding them in your wallet.
FEG Coin Price Prediction
Despite generating massive gains for its investors last year FEG price chart isn't looking quite bullish. Currently, the FEG coin price is trading at $0.00000000341, which is 91.5% below its May 2021 all-time high. The price needs to make a higher high than $0.00000000850 soon to gain investors' confidence.
In such a scenario, the FEG coin price prediction of $0.00000001852 seems to be very likely in 2022. This 0.38 Fib level comes into play by connecting ATH of $0.00000004550 to the September 2021 lows of $0.00000000155.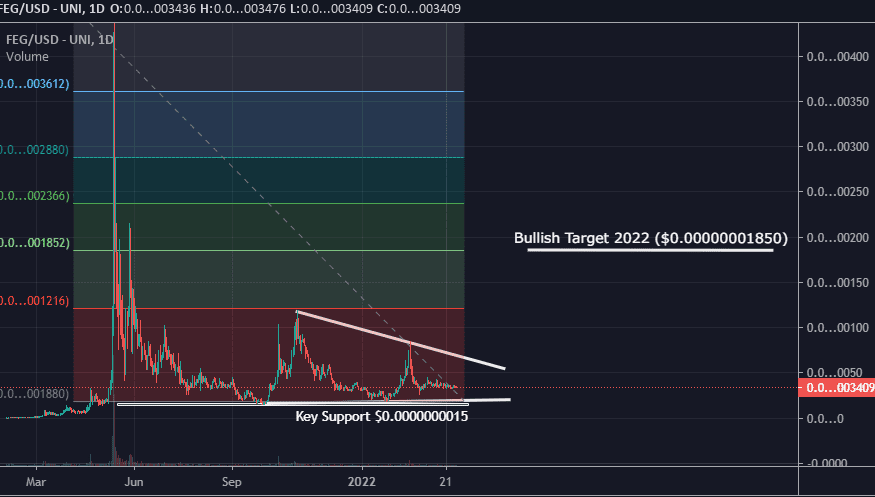 Nevertheless, any breach of 0.00000000190 level could turn things very ugly for Feed Every Gorilla token. In such a case price might even dip below the $0.00000000100 level. Therefore, manage your risk properly before dipping your toes in FEG, just like every other cryptocurrency.