The Evraz share price looks set to undergo a new round of selling after the company announced that it would not go ahead with the planned demerger of its Kazakhstan coal assets. In announcing the move on 1 April, the steelmaker said that the sanctions imposed on Russia following the 24 February invasion of Ukraine
had made it "technically impossible" to offload the assets. Trading in Evraz's stocks remain suspended, and this is probably what has curtailed a complete collapse of the Evraz share price. Chelse owner Roman Abramovic, who owns a majority stake in the LSE-listed steel company, is one of the individuals sanctioned by the UK government. 
The Evraz share price tanked nearly 60% as a massive selloff hit LSE-listed mining companies which had ties to Russia either directly or in the form of Russian shareholding. Trading in the shares of Evraz was suspended on 10 March, leading to a mass exodus of directors. A scheduled bond repayment by the company was blocked by the correspondent bank in New York, casting doubt on banks honouring any financial transactions involving the company.
Evraz Share Price Outlook
Trading in Evraz's shares has been suspended. Without the suspension, the likelihood of a steep drop in the Evraz share price was quite high, especially as a bearish flag was forming on the daily chart. Until the shares are subject to trading once more, there will be no further technical updates on the Evraz share price. 
Evraz: Daily Chart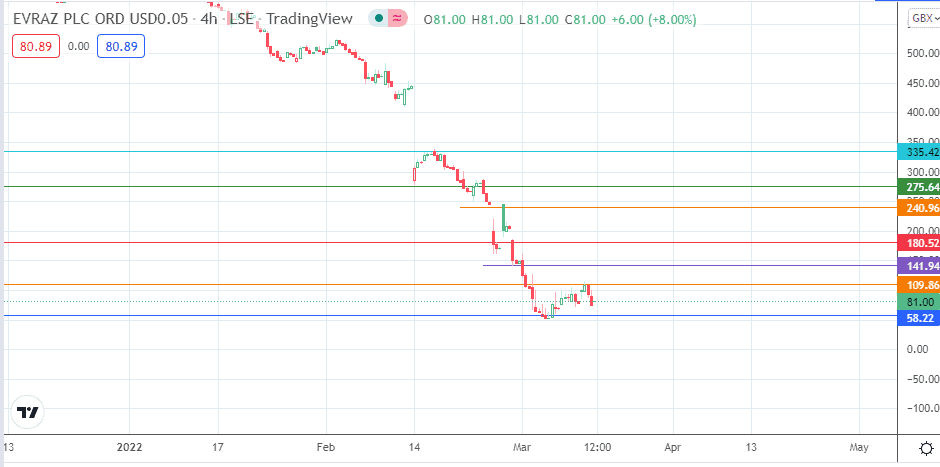 Follow Eno on Twitter.