The EUR/GBP pair has had a strong showing in Thursday's trading session, as the bulls aim to produce a continuation of the pair's fine form before Wednesday's brief correction. Despite a pullback from intraday highs in what has been a choppy session, the bulls have been able to retain the 17 pips gain, keeping the pair 0.21% higher.
The primary fundamental trigger for the Euro's ascension against the Pound remains the bets that the ECB would start to raise rates soon, even as Germany's Consumer Price Index came in above expectations.
However, the bulk of the pressure has been on the British Pound, which fell against its peers as higher-than-expected UK government borrowing and a weaker economic outlook for the UK continue to push back against the Bank of England's hawkish posture. The situation has markets scaling back on the extent of rate hikes by the BoE.
The CBI Industrial Order Expectations fell from 26 to 14 (consensus of 24). These added to last week's retail sales slump to put the Pound on the back foot the entire week. An absence of economic news triggers on the news calendar leaves the pair open to technicals, which show the pair trading in a range. 
EUR/GBP Outlook
The bullish action of the day has stalled at the 0.84611 price resistance. To open the gateway towards the 0.84883 price mark, the bulls must uncap this price barrier. Additional targets to the north are found at the 0.85105 and 0.85372 price levels. A push above the 0.85105 resistance is what restores the uptrend on the EUR/GBP pair.
On the other hand, a decline from the rejection at 0.84611 targets the 0.84381 support initially. If the bulls fail to support the 0.84381 price mark, the door opens for the bears to push a further decline, targeting 0.83932 (26 April 2022 low). Continued price deterioration opens the door towards the 0.83073 pivot (22 March and 8 April lows), before 0.82825 (8 March and 19 April lows) and 0.82507 (14 April 2022 low) come into the picture as potential harvest points to the south.
EUR/GBP: Daily Chart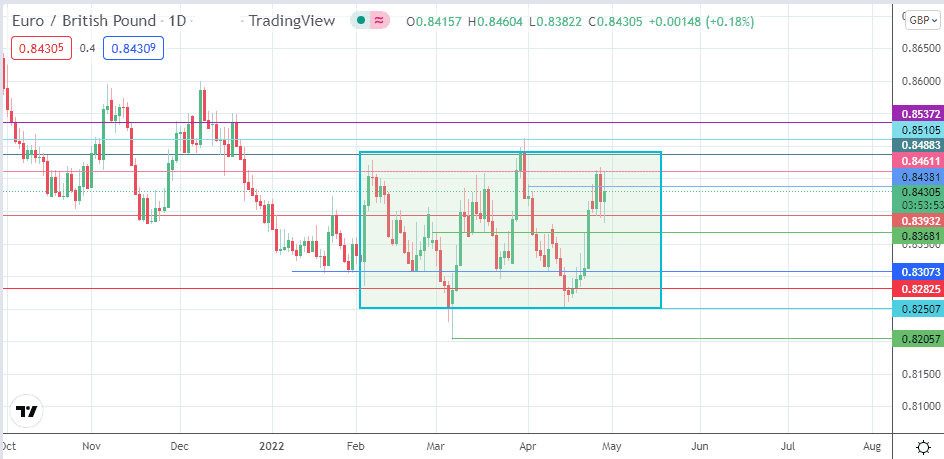 Follow Eno on Twitter.