Vitalik Buterin conceptualized Ethereum in 2013 and published a whitepaper to this effect in which he described a decentralized, censorship-resistant network to develop applications with real-life use cases. However, Ethereum was born in June 2014 when eight co-founders met in the woods to establish the foundation of what was to become the 2nd largest blockchain network.
After a massive bull run in 2021, Ethereum price remained in a downtrend throughout 2022. The biggest smart contract cryptocurrency had to face an intense sell-off due to the bankruptcy of multiple exchanges and crypto projects. ETH price dipped to its lowest level of $878 in June 2022. Since then, the price has surged almost 115%.
| | |
| --- | --- |
| Ethereum price now | $1,661.23827418836708602611906826496124267578125 |
| Ethereum's Price change percentage 24h ago | 4.14131987% |
| Ethereum's Price change percentage 7 days ago | 4.5662119% |
| Ethereum's highest price 7 days ago | 1,666.0241$ |
| Ethereum's lowest price 7 days ago | 1,565.0256$ |
| Ethereum's highest price 90 days ago | 1,533.426729052072687409236095845699310302734375$ |
| Ethereum's lowest price 90 days ago | 1,533.426729052072687409236095845699310302734375$ |
| Ethereum's highest price all time | 4,891.7047$ |
| Ethereum's lowest price all time | 0.4209$ |
| Ethereum's lowest price change percentage of all time | 394,589.96999999997206032276153564453125 |
| Ethereum's lowest price change percentage of all time | -66.040000000000006 |
| Ethereum's rank | 2. |
Ethereum price overview
Coin Founders
Eight co-founders are behind the development of Ethereum. Vitalik Buterin, Gavin Wood, Anthony Di Iorio, Charles Hoskinson, Amir Chetrit, Jeffrey Wilcke, Mihai Alisie and Joseph Lubin are the eight original founders of Ethereum. Of the eight co-founders, Vitalik Buterin remains the only one still actively involved in work on the platform and has become the public face of the project. At least two of the eight co-founders left to start their blockchain projects. The others are involved in other projects supporting Ethereum or have left the industry entirely.
Ethereum Road map
The development of Ethereum was funded by a crowd sale that took place between July and August 2014. More than $18m was raised, with the first live release of the Ethereum blockchain occurring in 2015. Here is a brief timeline of the Ethereum roadmap.
In May 2015, 25,000 ETH were distributed as rewards for stress tests conducted on the Public Testnet in what was known as the Olympic testing phase. This was followed closely in July 2015 by Frontier, which was the official launch of the public mainnet. The genesis block was mined into existence, with transactions being suspended for a few days to allow for more significant signups from miners and clients. At this time, 5 ETH was the block reward.
Homestead followed in March 2016. This upgrade introduced the Mist ETH wallet and new codes for the Solidity programming language. In addition, the Canary contracts were abolished.The DAO hard fork occurred in 2016 after the theft of $50m worth of Ethereum. The vulnerability led to the split and creation of Ethereum and Ethereum Classic.The Byzantium upgrade reduced the mining rewards from 5ETH to 3ETH. This upgrade occurred on 16 October 2017.
February 2019 brought the Constantinople upgrade, reducing block rewards from 3ETH to 2ETH. Smart contracts could now verify each other with a hash of another contract, and this upgrade also provided better support of off-chain transactions. October 2019 brought the Istanbul upgrade, the next hard fork, and upgrade that preceded Serenity.
Changes to gas costs for different operations were proposed, and the ProgPoW mining algorithm reduced the efficiency advantage of ASIC miners., known as Ethereum 1.x. The first phase of Serenity (Serenity Phase 0) signals the move from the proof-of-work to the proof-of-stake consensus mechanism.
Serenity Phase 1 launched in 2020, dividing the network's transactions among several sets of randomly organized validators. The Beacon Chain now supports 1024 Shard chains with validation by collecting 128 nodes.
In September, Ethereum activated the merge, which brought together the old version and the Beacon Chain. As a result, Ethereum moved from being a proof-of-work (PoW) network to a proof-of-stake network. In April 2023, Ethereum underwent the Shanghai upgrade, which enabled the unstaking of the ETH crypto from the beacon chain.
Ethereum TVL & Adoption Stats
Ethereum is currently by far the biggest smart contract platform in terms of on-chain activity and the total locked value (TVL). Currently, the network boasts $26.4 billion TVL, which is 60% of the total TVL across all blockchains. Most of this TVL comes from decentralized applications (Dapps) like LIDO, AAVE, Maker DAO, and Uniswap.
What has been the story of Ethereum's price adoption?
– The number of Ethereum addresses in the last five years has grown tremendously, far exceeding that of Bitcoin.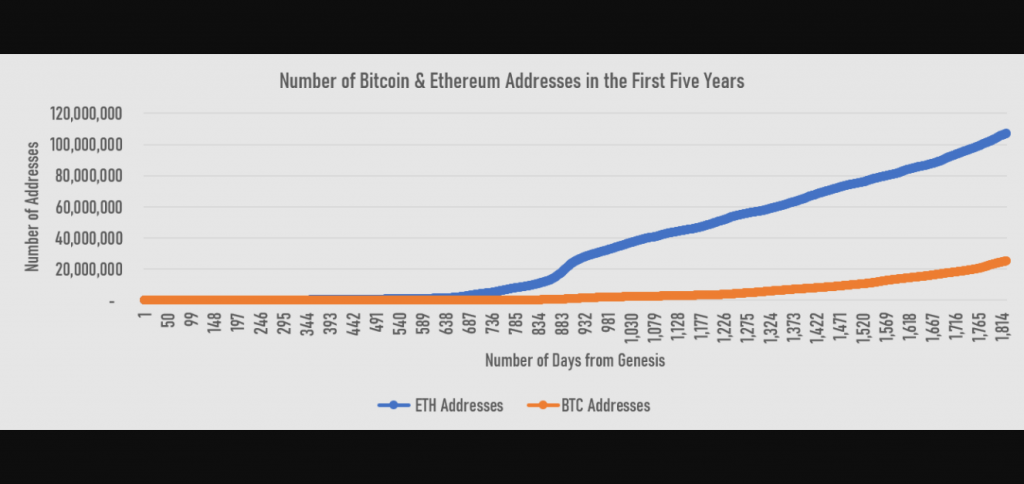 – Ethereum remains the platform of choice for many developers of decentralized applications (dApps). Nearly 80% of all dApps are built on Ethereum. The data from Consensys is shown below.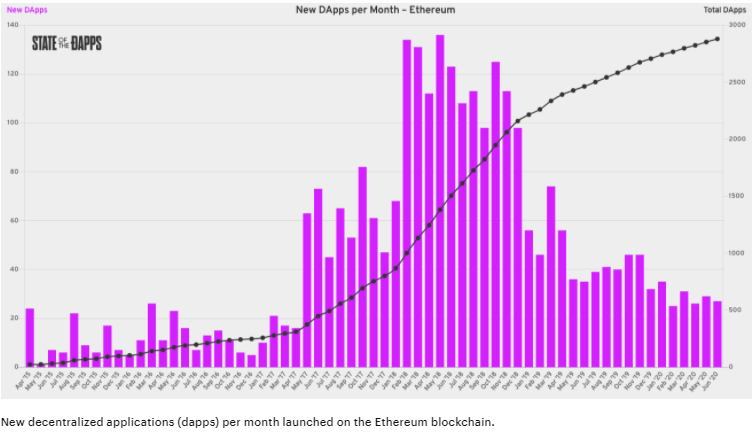 As of July 2021, Ethereum had over 689,000 addresses and exceeded the number of active BTC wallets by more than 200,000, in data showcased by Benzinga.By December 2021, non-zero Ethereum wallets hit an all-time high of 71,364,788. This was made possible by the explosion in interest in non-fungible tokens (NFTs). This data piece was pulled from Glassnode.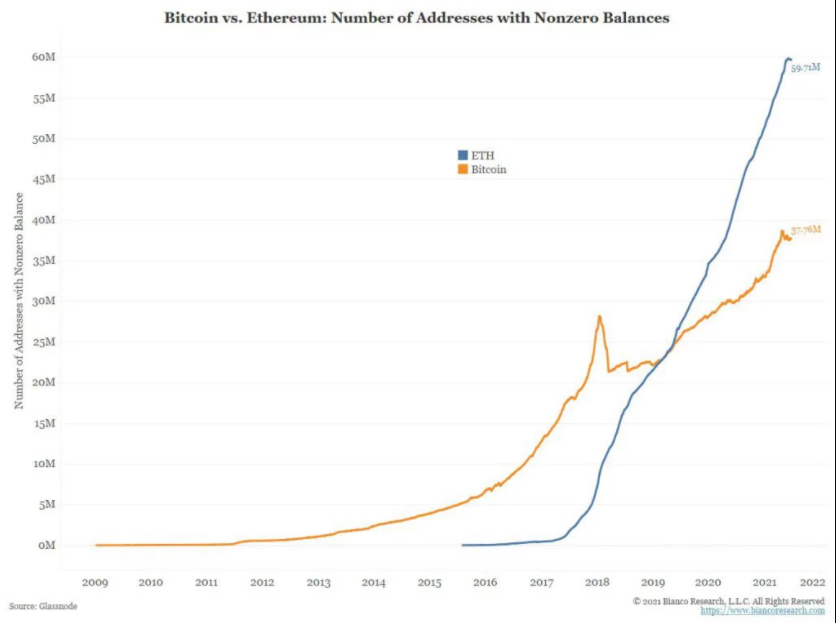 The various metrics measured show that Ethereum adoption and usage continue to grow, despite the price correction experienced recently.
Latest Ethereum Prices Today

Ethereum Price
$1,857.27
Price Change 24h
+$24.12
24h Low: / 24h High:
$1,817.92 /

$1,877.51

Trading Volume 24h
$6,960,632,380
Market Dominance
18.91%
Market Rank
#2
Market Cap
$223,111,014,434
Fully Diluted Market Cap
$223,111,014,434
7d Low: / 7d High:
$1,817.92 /

$1,886.97

30d Low: / 30d High:
$1,817.92 /

$2,026.20

All Time High: Nov 16, 2021 (2 years ago)
$4,891.70
All Time Low: Oct 21, 2015 (8 years ago)
$0.4209
Last Update
2023-08-02 10:45
Ethereum Price Prediction: 2023-2030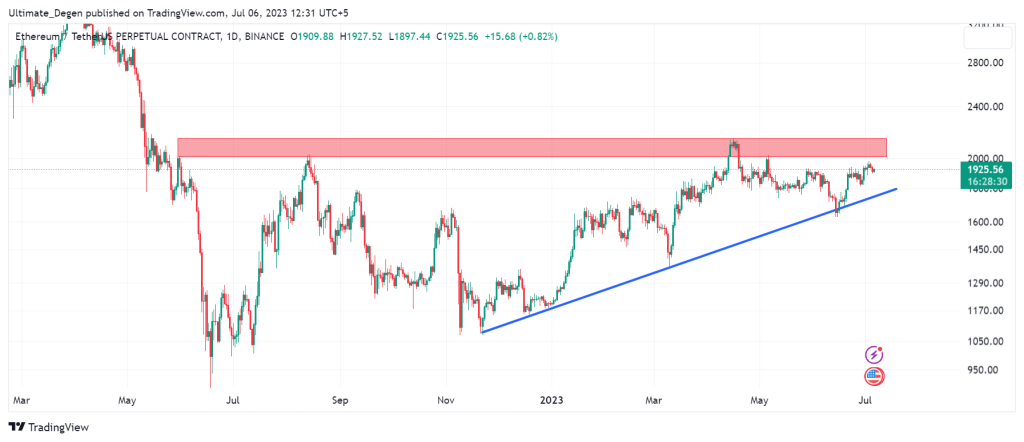 Ethereum has been in an uptrend since November 2022. Since then, the price has surged more than 78%. There is strong resistance within $2,000-$2,150 region, due to which the price has faced multiple rejections. A reclaim of this region will make Ethereum price prediction 2023 even more bullish.
I'll keep posting my updated ETH price prediction and my personal trade setups on Twitter, where you are welcome to follow me.
| YEAR | MINIMUM PRICE | MAXIMUM PRICE |
| --- | --- | --- |
| 2023 | $1,601 | $3,810 |
| 2024 | $3,551 | $5,087 |
| 2025 | $4,512 | $6,551 |
| 2026 | $5,920 | $8,570 |
| 2027 | $7,716 | $11,132 |
| 2028 | $9,013 | $13,163 |
| 2029 | $11,012 | $16,612 |
| 2030 | $11,340 | $19,442 |
Ethereum Price Prediction 2025
The Ethereum price prediction 2025 also retains a bullish bias as long as the ascending trendline on the weekly price chart of the ETH/USDT pair is respected. This trendline intersects the 50% Fibonacci retracement level from the swing low of 21 January 2019 to the swing high of 8 November 2021.
| MONTH | MINIMUM PRICE | MAXIMUM PRICE |
| --- | --- | --- |
| January | $4,559 | $5,160 |
| February | $5,160 | $5,260 |
| March | $5,260 | $5,461 |
| April | $5,361 | $5,611 |
| May | $5,461 | $5,761 |
| June | $5,611 | $5,862 |
| July | $5,711 | $5,962 |
| August | $5,862 | $6,112 |
| September | $6,012 | $6,262 |
| October | $6,112 | $6,363 |
| November | $5,962 | $6,463 |
| December | $6,162 | $6,563 |
ETH/USDT: Weekly Chart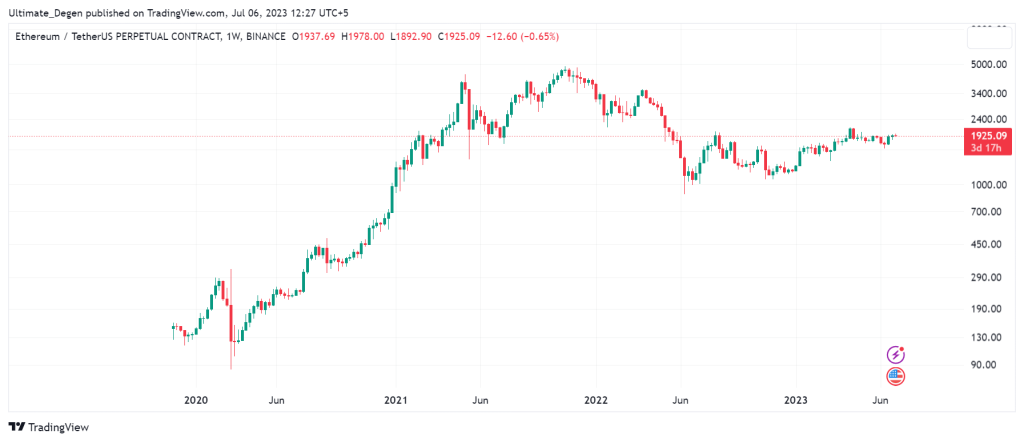 On a weekly timeframe, Ethereum has made a lower low on the weekly chart, which has broken the bullish market structure. To flip bullish on the weekly chart, the ETH price needs to break above $3,580.
Ethereum Price Prediction 2030
The Ethereum price prediction 2030 is that the coin could be trading closer to the $10,000 mark. This view is consequent on the ETH/USDT pair breaking above the $4877 mark (all-time high), which allows for a push to sequential Fibonacci extension targets at 7324, 8641, 9328, and 10316. But, again, this Ethereum price prediction 2030 depends on the ability of the bulls to hold the fort at the existing trendline that intersects the 50% Fibonacci extension level.
Is Ethereum a Good Investment?
Suppose there is any cryptocurrency that will remain relevant for years to come in terms of the sheer scale of its utility and application. In that case, Ethereum is a powerful candidate. Indeed, it will be a bold statement to say that the advent of Ethereum is the main reason the cryptocurrency market survived the teething challenges of its early years. The Mt.Gox saga nearly buried Bitcoin, but Ethereum resurrected it and led to the market revolutions that followed. The development of initial coin offerings (ICOs) and decentralized finance (DeFi), the development of smart contracts, and cross-chain interoperability are all products of Ethereum's entrance into the blockchain arena.
How to buy Ethereum?
How to buy Ethereum is not an issue. It is available on almost every crypto exchange. There are two ways to do this. The Basic function allows for quick conversion of the purchase of fiat or cryptocurrency with Ethereum at market price. The Advanced process allows for expanded purchase options, such as setting limit prices, purchasing specific amounts, etc. Ethereum is usually listed in pairing with Bitcoin (ETH/BTC), US Dollar (ETH/USD), Tether (ETH/USDT) and several other cryptos.
"There are multiple fundamental and technical factors behind the negative ETH price action. According to the most recent news, the Securities and Exchange Commission of the United States had sued the top crypto exchanges Coinbase and Binance. These development are acting as the tailwinds for ETH.
SEC has labelled BNB, BUSD, MATIC, SOL, CHZ, ADA, and many other top cryptocurrencies as securities in its latest lawsuits. However, the regulator hasn't taken any stance on Ethereum yet. Nevertheless, sooner or later we may have big news on the status of ETH as well."
ETH/USDT: Monthly Chart