Digital assets like Bitcoin (BTC) and Ethereum (ETH) are facing strong headwinds due to an intense sell-off in the equities. The soaring DXY index has made the Ethereum price break its weekly uptrend, signaling the alarm bells for the bulls.
Even though the ETH price is still up 82% from last year lows, the bulls are still lacking the momentum to target new yearly highs. The weakness in Ethereum is also affecting the price action of other altcoins that reside on the top smart contract platform, such as ERC-20 tokens.
The week started with a $200 million exploit on the Mixin Network. The L2 protocol compromised the decentralization to scale up the transaction speed, which turned out to be an unwise move.
The markets showed a momentary bullishness when the news of MicroStrategy buying 5,445 Bitcoin came out. However, the gains were lost on Tuesday as the Ethereum price slid 0.13%. However, the ETH/BTC pair remained strong, and the smart contract asset gained 0.33% against the pioneering digital currency.
After a major correction, the dominance of the biggest stablecoin, USDT, is on the rise once again. The increase in the dominance of the dollar-pegged coin comes amid a strong surge in the DXY index. This suggests that the smart money is rushing to the dollar for safety, anticipating the rates to remain high for longer than previously expected.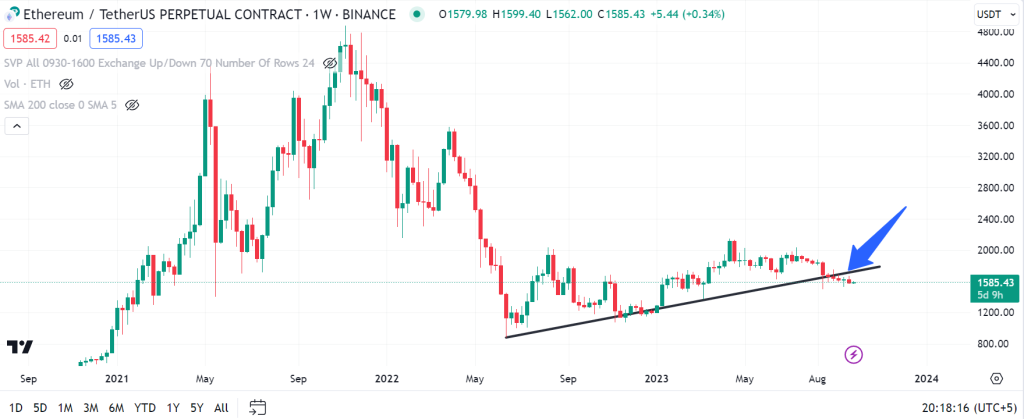 Ethereum ((ETH) Price Technical Analysis
The weekly uptrend, which started back in June 2022, seems to be broken, as visible on the above-mentioned ETH price chart. While the current price action of the cryptocurrencies might appear to be indecisive, an analysis of the weekly timeframe presents a better picture.
While the long-term Ethereum price prediction may be bullish, a retest of the $1,000-$1,200 before the upcoming Bitcoin halving can't be completely ruled out. The $2,000 price level remains the biggest resistance, which needs to be reclaimed by the bulls to change the outlook.
I'll keep sharing updated ETH to USD analysis on my Twitter, where you are welcome to follow me.