Can the Ethereum classic price ever regain its former glory, or is a terminal decline into single digits more likely for ETC?
Although Ethereum Classic (ETC) has mustered a 5.7% rally to $41.80 this morning, the bulls have little to celebrate. Whilst Ethereum (ETH) is trading around 10% below its all-time high, ETC is 78% below its own personal best. Furthermore, of all the so-called Ethereum-killers, Ethereum Classic poses the slightest threat.
Nothing highlights the divergence between ETH, ETC as the widening gap in their respective market caps. Whist Ethereum's $520 Billion valuation places it behind Bitcoin as the second-largest crypto, Ethereum Classic currently ranks 35th behind Cosmos. But despite ETC's relatively low value, I see no reasons for it to sustain a prolonged rally. If anything, the Ethereum Classic price could head much lower over time.
ETC Price Forecast
The daily chart shows a robust descending trend line from the May all-time high caps ETC at $46.00. Furthermore, above the trend, the 100 and 200-DMA's, between $53.30 and $54.62, reinforce the overhead resistance.
In my opinion, unless the Ethereum Classic price clears the 200-DMA, the path of least resistance is lower. On that basis, I expect the slow bleed to continue. Below the market, Saturday's $30.00 low is the first logical support. However, a steeper decline targets the February high of $19.22 and potentially below $10.00.
As mentioned, I will be proven wrong if the price clears the 200-Day Moving Average. Therefore, a daily close above $54.62 invalidates the bearish view.
Ethereum Classic Price Chart (Daily)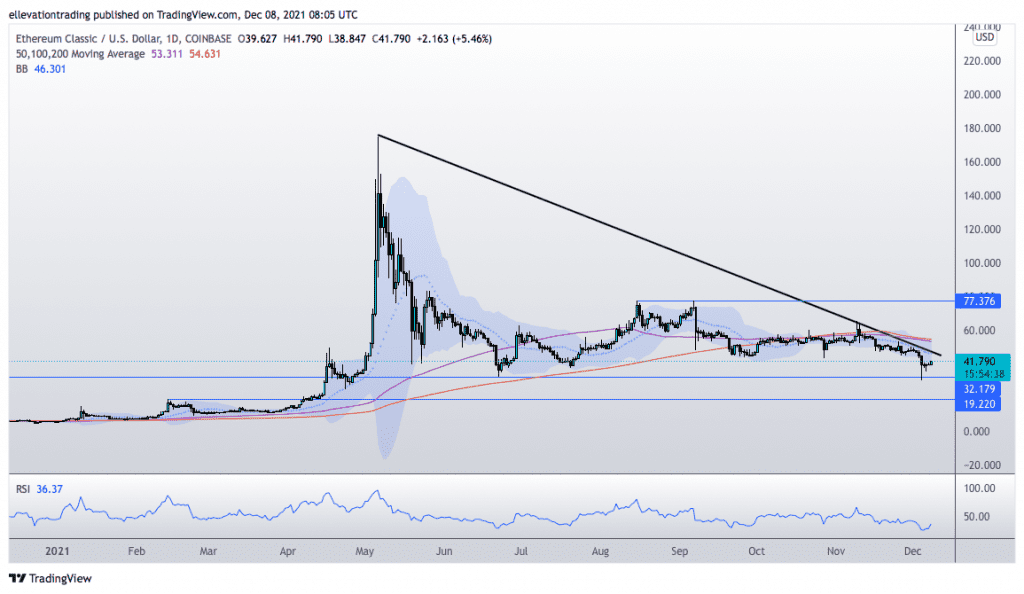 For more market insights, follow Elliott on Twitter.