Ethereum Classic is an open-source blockchain network that was the original version of the Ethereum blockchain before the DAO hack and hard fork of 2016. This hard fork split the network into two, with the old network being Ethereum Classic and the new evolved network retaining the Ethereum name.
Both networks are structurally similar, but various upgrades over time have set both tokens on separate paths. As a result, Ethereum Classic has gradually metamorphosed into a globally scalable payment system and smart contract platform. Its consensus mechanism remains the Proof-of-Work (PoW) algorithm.
Coin Founders
The originators of Ethereum Classic were Vitalik Buterin, Gavin Wood, and six other developers. The coin came into being after the 2016 hard fork to counter TheDAO hack, with the original network retaining the name Ethereum Classic.
Road map
The latest Ethereum Classic news is the upcoming Mystique hard fork, which took place on 14 February. Mystique was activated at block 14,525,000 as a routine protocol upgrade. The Ethereum cooperative made sure it clarified that this was not a hard fork as earlier misreported on several media. This Ethereum Classic Improvement Protocol (ECIP) 1104 was the latest in the Ethereum Classic roadmap.
But how did Ethereum Classic get here?
Ethereum Classic was born out of an accidental hard fork of the original Ethereum blockchain in 2016 Slock. It developed the TheDAO Ethereum contract on 5 April 2016. However, a recursive call bug was identified after the crowd sale ended. This security vulnerability eventually led to the hacking of TheDAO, leading to a halving of the price of Ethereum on 17 June 2016.
A splitting mechanism was implemented, allowing white-hat hackers to recover most of TheDAO's stolen funds. On 20 July 2016, a DAO Bailout fork activated block 1,920,000 paving the way for the birth of a new forked-chain to reverse the DAO theft. This new chain was rebranded into Ethereum while the original non-forked chain was named Ethereum Classic with the generation of block 1,920,001.
23 July 2016 saw the first listing of Ethereum Classic on an exchange. Once Poloniex listed the token, other exchanges followed suit. The same day, a new "Flame War" on subreddits broke out. Supporters of the Ethereum Classic staged a revolt, breaking away from Ethereum subreddits and forming their channels. By the end of July 2016, Parity lent long-term support for Ethereum Classic. Geth also provided support for Ethereum Classic, clearing all DAO codes from its software client.
A series of attacks on the Ethereum Classic network followed. 31 July 2016 saw a 51% attack on the network by a group of Ethereum supports from the 51pool.org mining pool. A Robin Hood Group also tried to dump a large cache of ETC tokens stolen from the DAO fork, but timely freezing of the funds by Poloniex saved the day.
With the creation of block 2,050,000, Ethereum Classic became an independent chain from Ethereum. An upgrade at block 2,500,000 followed this to prevent further exploitation of vulnerabilities. By 11 December 2016, a team of 7 developers from IOHK was put together to develop the ETC network.
Developers performed the Die Hard upgrade on 13 January 2017. The ETCDEV team, composed of developers, contributors and volunteers, was formed on 20 February 2017. Finally, 1 March 2017 saw the implementation of a monetary policy consensus, which included, among others, a 20% reduction of block rewards after every 5 million blocks.
The same day, the Grayscale hedge fund launched its first non-Bitcoin crypto fund, opening the door for investors to add ETC. to their investment portfolios.
The Mantis Beta client came on stream on 8 August 2017. Block 5,000,000 brought the Gotham upgrade on 11 December 2017. By Block 5,000,001, the block rewards are reduced to 4 ETC per block, representing a 20% reduction.
ETC launched on Coinbase in 2018. 25 October 2018 saw the launch of the incubation program by ETC Labs. The first successful hack of the ETC chain occurred on 8 January 2019. Five days later, the stolen funds were sent to an exchange, which led to an industry-wide move to tighten security protocols against 51% attacks.
20 June 2019 saw ETC developers reach a draft consensus for ECIP-1054, leading to the Byzantium and Spurious Dragon upgrades on ETH (block 8,772,000) to bring the ETC network to operation parity with ETH.
Since 2019, a series of upgrades have been made:
– Agharta (block 9,573,000) done on 11 January 2020.
– Core-Geth launch: 3 February 2020.
– 5M20 Era 3, reducing block rewards by 20% to 3.2 ETC per block, implemented as block 10,000,001.
– Phoenix upgrade (block 10,500,839), done on 1 June 2020 as an upgrade to ETH's Istanbul network.
– MESS. Client Functionality (block 11,380,000) was done on 10 October 2020 in response to three chain attacks that occurred on 31 July, 6 August, and 29 August, all in 2020.
– Thanos Upgrade (block 11,700,000), performed on 28 November 2020 to adjust the mining algo from Ethash to Etchash. It also adjusted the lengths used in DAG calculations.
Ethereum Classic Price Prediction 2022
The Ethereum Classic price prediction 2022 showcases the medium-term outlook for the ETC/USDT pair. This outlook will draw on the price information on the weekly chart.
The weekly chart shows that price action appears to have found support at the 21.23 price level. In addition, the weekly candle of 17 January 2022 and 24 January 2022 bounced off this pivot, with the latter forming a Doji candle.
The bullish candle of the active week appears set to complete the potential morning star formation. This could have immediate bullish implications if the active candle closes above the 28.51 resistance (29 November 2021 and 10 January 2022 lows). If the closing penetration above 28.51 is achieved with at least a 1% price filter, there could be clear skies for the price activity to aim for the 40.00 psychological resistance.
The emerging falling wedge supports the bullish outlook, whose evolution would lead to an upside break. If this pattern delivers according to the expectations, a price target of between 40.00 and 50.73 could be the Ethereum Classic 2022 price target.
However, if the bulls fail to break the 28.51 price mark, then the pricing for 2022 could remain capped at that level. A possible floor in this scenario would be between 3.60 and 11.65.
Ethereum Classic Price Prediction 2025
The Ethereum price prediction 2025 is expected to showcase a token that would have recovered from the current market downturn. If this recovery takes Ethereum Classic above the August 2021 high of 77.11, the Ethereum Classic price prediction 2025 will feature potential upside targets at 97.09 117.73 and 128.50, corresponding to the 100%, 127.2% and 141.4% Fibonacci extension levels.
Last week's candle closed more than 16% lower after a steep fall over the weekend. This drop took out the support level at 28.51 and has opened the door for a further descent towards 21.23. This position will become more tenable if an attempt at recovery is foiled at the broken support-turned-resistance.
17 January had served up a previous bounce at the 21.23 price level. This makes this pivot another attractive price point for conservative traders seeking to maximize long term returns. So while the Ethereum Classic price prediction 2025 remains bullish, there could be further short term price dips, which provide more attractive price entry points for those with a long term outlook.
Is it a Good Investment?
Ethereum Classic is a fork of the Ethereum network. Therefore, developers can also use it to build and deploy autonomous smart contracts.
Some have likened Ethereum Classic to a Bitcoin with smart contract functionality. This is because Ethereum Classic is used as a payment alternative. Ethereum Classic is currently accepted as a payment system by more than 1059 merchants, according to February 2022 data from Cryptwerk. These merchants are spread out across various industries, ranging from travel and tourism to web development, gaming, internet services and even brick-and-mortar shops.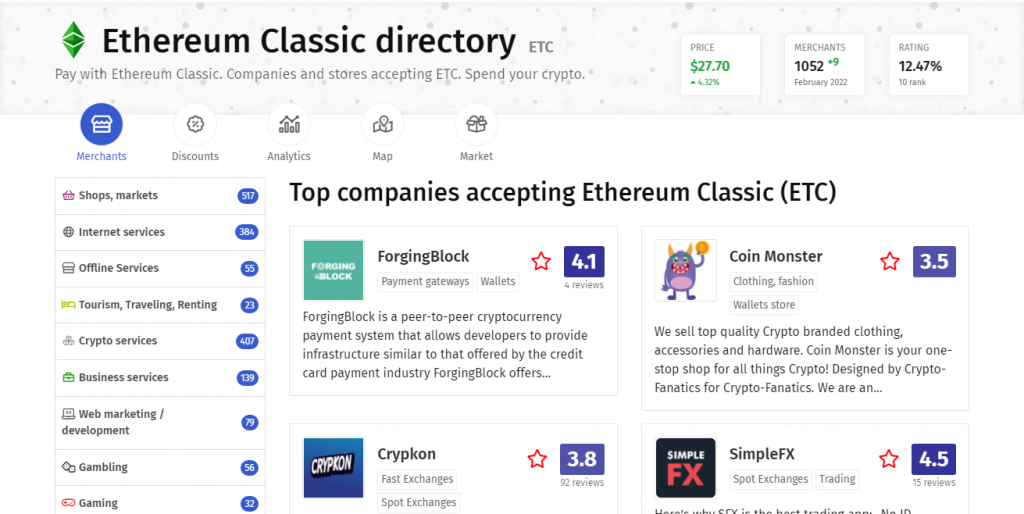 Due to its utility and its ability to take on decentralized applications and smart contracts, Ethereum Classic retains a medium-term outlook as a good investment. However, its long-term utility as a payment system and even as a smart contract blockchain is in some doubt. Despite several security upgrades, numerous hackings of its network, and the emergence of networks with cheaper transaction costs and faster speeds (Solana, Tron, etc.) will be significant challenges for the long-term growth of Ethereum Classic.
ETC is a good investment, but probably for the medium term only.
How to Buy Ethereum Classic
How to buy Ethereum Classic is relatively easy. It is available on the major crypto exchanges. Ethereum Classic can be bought using Bitcoin, Tether, Binance USD, US Dollar and several other crypto pairings. In addition, you can use the Basic function to exchange your crypto or fiat assets for ETC, or you can exchange your fiat currencies for ETC. 
The Oobit blog reported last week that its exchange had added a number of new cryptos to its
trading list. Ethereum Classic was one of those listed and can be purchased with fiat and crypto options.
ETC/USDT: Weekly Chart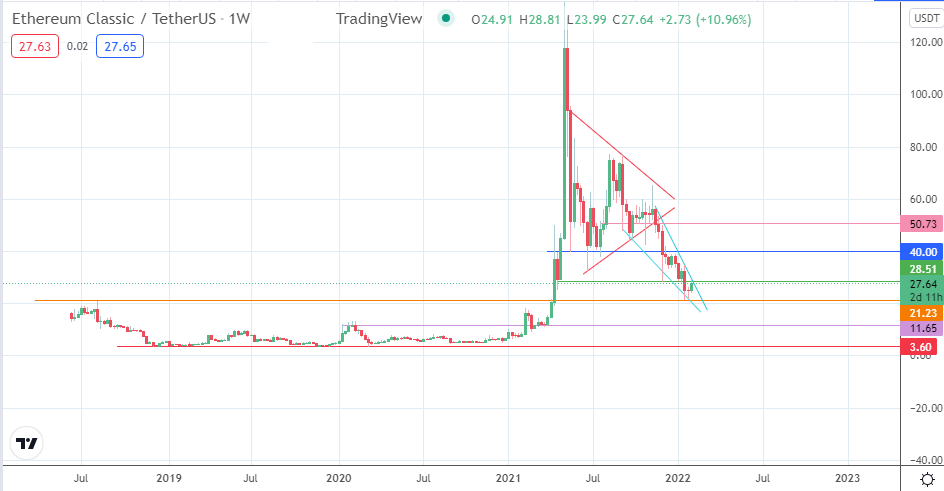 Follow Eno on Twitter.