Ethereum Classic price is in a tight range after it staged a major bullish rally on Tuesday. The ETC coin is trading at $60.51, which is a few points below this week's high of $65.23. The overnight weakness coincides with the overall drop of other cryptocurrencies like Bitcoin, Ethereum, and Cardano.
What happened? Ethereum Classic price has moved sideways in the past few weeks. Indeed, it has not participated in the recent bullish run. There are three main reasons for this. First, retail traders have been interested in other digital currencies like Shiba Inu, Kadena, and Avalanche.
Second, fundamentally, Ethereum Classic's platform has been left in the dust. While Ethereum's network has grown substantially, it is hard to pinpoint applications built on classic. This means that its network activity has been relatively low, which is partly because of the regular 51% attacks.
Third, the correlation between ETC and ETH has faded substantially in the past few weeks. Therefore, investors have seen no need of buying the currency because it is no longer correlated with Ethereum. In the past, many retail traders preferred ETC than ETH because of its low notional value.
Ethereum Classic price prediction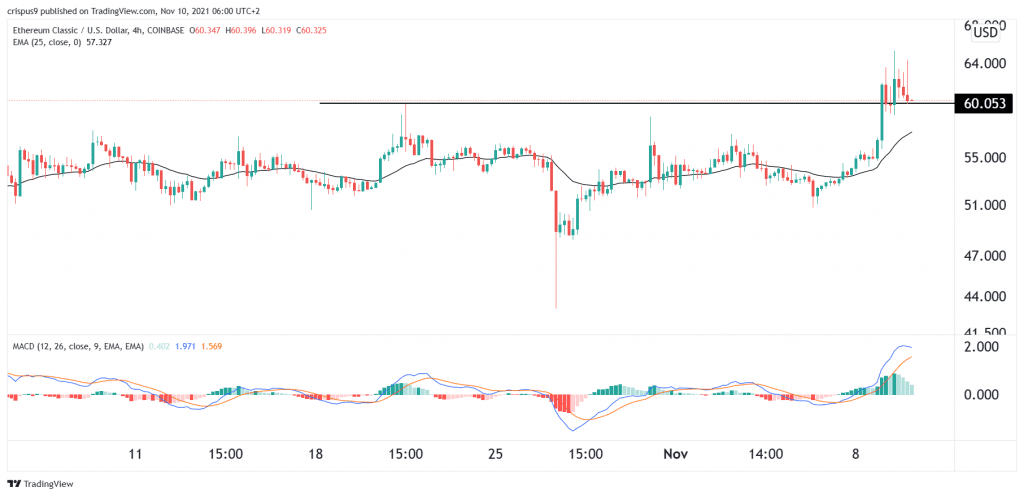 The four-hour chart shows that the ETC price jumped sharply on Tuesday as cryptocurrency prices bounced back. This rally pushed it to a high of $65.22. However, the gains did not last long as they declined after the weak Coinbase earnings.
Ethereum Classic price dropped to a low of $60, which is important psychological support. It was also the highest level on October 21. The price is slightly higher than the 25-day moving average while the MACD has kept rising.
Therefore, I believe that the price will resume the bullish trend now that it has formed a break and retest pattern. If this happens, the next key level to watch will be at $70.