Facebook's announcement on a major rebrand to position it as a player in the Metaverse ecosystem has led to a surge in Metaverse-themed crypto gaming tokens. One of such tokens is the Enjin Coin.
Investors are now shifting their interest to meme tokens and crypto gaming apps following a slight selloff in Bitcoin, Solana, and several other major tokens.
Enjin, Fight for the Future, and the Blockchain Game Alliance led 26 other game companies in a call on Valve to lift its ban on Web3 technologies. Web 3 technologies are popular with decentralized autonomous organizations (DAOs). Due to regulatory concerns, Valve's gaming platform Steam kicked out blockchain-based gaming projects in September. Steam responded to the call, asking the blockchain gaming apps to reference external databases to grant in-gaming content and to ensure ownership of NFTs is verified once and for all without transfer rights.
Investors see the reply from Valve as a step towards a compromise, allowing Enjin Coin to enjoy a 5th day of gains, up 5.48% on the day.
Enjin Coin Price Prediction
The active daily bar has hit resistance at 2.612, with a slight pullback. This candle emerged from a bounce on the 2.325 support.
A full retracement to this support level puts this area at risk. If the bulls fail to defend this price level, 2.192 becomes the next available target. The 200-day moving average reinforces the 1.727 support, which could emerge as a potential bounce level if the bulls stop any declines below 1.985 at this level.
On the flip side, a break of 2.612 is needed to clear the ground towards 2.856. Above this level, the 15 April high at 3.248 serves as the additional price target for buyers. 3.562 and 4.000 are additional barriers to the north that only become relevant on a major price advance.
Enjin Coin: Daily Chart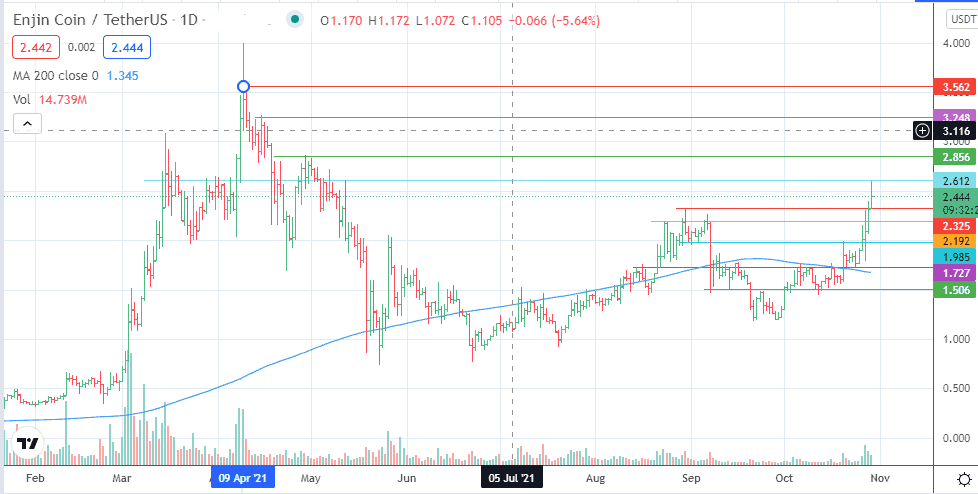 Follow Eno on Twitter.