The easyJet share price is off to a flying start this Monday as the company announced it was adding a slew of new routes to its schedule. The easyJet share price is up 4.3% as of solid demand; the company announces new flights from Glasgow airport to Barcelona, Aberdeen airport to Manchester and Gatwick, and additional summer flights into Berlin, the potential for easing of COVID-19 restrictions in Germany increases.
EasyJet has indicated it is ramping up its summer schedule as the company looks to fully rebound from its pandemic-era woes. There will be three flights a week from Glasgow to Barcelona, following Spain's removal of the requirement to do COVID tests for vaccinated travellers. Instead, unvaxxed kids between 12 and 17 would need to present a negative PCR result within the 72-hour window.
EasyJet's UK Country Manager Ali Gayward is urging travellers to take advantage of the relaxation of restrictions to satisfy their pent-up holiday demand. Investors appear to be pleased with the situation and are snapping up easyJet's shares, making the stock among the top 3 gainers in London trading.
EasyJet Share Price Outlook
The easyJet share price is approaching the 548.8 resistance mark (22 December 2021 high) after the bounce on 508.8 truncated the short-term correction. A closer look indicates this is a bullish pennant, and the day's uptick is a break of this pattern. This points to a measure move that targets 607.8.
But before then, the bulls must uncap the resistance barrier at 548.8 for progress on the measured move. Beyond the 607.8 price point, the 655.8 price mark (12 October 2021 and 2 February 2022 highs) become additional resistance barriers that the bulls need to aim for to complete the harmonic pattern on the daily chart. 
On the flip side, rejection at the 548.8 resistance allows the bears to initiate a pullback that retests 508.8. If the bulls fail to uphold this support, 472.0 could become the next price milestone.
easyJet: Daily Chart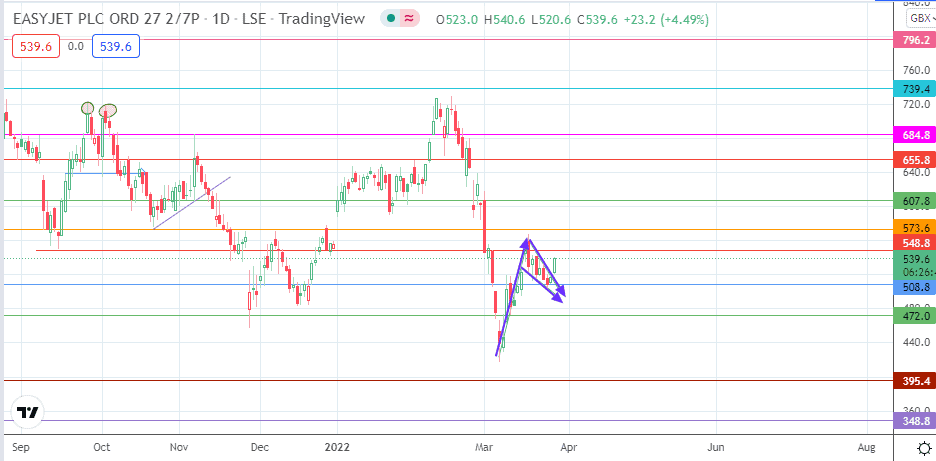 Follow Eno on Twitter.