easyJet (LON: EZJ) share price seems to be gaining strength after it closed under the 428p support level on Tuesday. The price for the British air carrier currently sits 2.4% above the key level after a strong rebound. On Wednesday, easyJet shares are standing at 438p, up 3.69% till press time.
The recent bounce in easyJet shares can be attributed to the recent dip in the inflation rate. This increased the expectations for a pause in the rate hikes by the Bank of England. The British benchmark FTSE 100 index gained 64 points, while the FTSE250 also showed a 1.48% gain on Wednesday.
easyJet Share Price Forecast
As I predicted in my previous analysis for LON: EZJ, the price retested the 200 MA level after bouncing off the 428p level. However, the bulls failed to gain momentum above the key moving average, leading to the price retesting the 428p level this week.
The easyJet share price forecast will flip extremely bearish in case of a breakdown below the 428p support level. However, in this case of a strong rebound, I expect the price to retest the 200 MA to flip it into support. Such a move could unlock a huge upside for the shares of the low-cost carrier.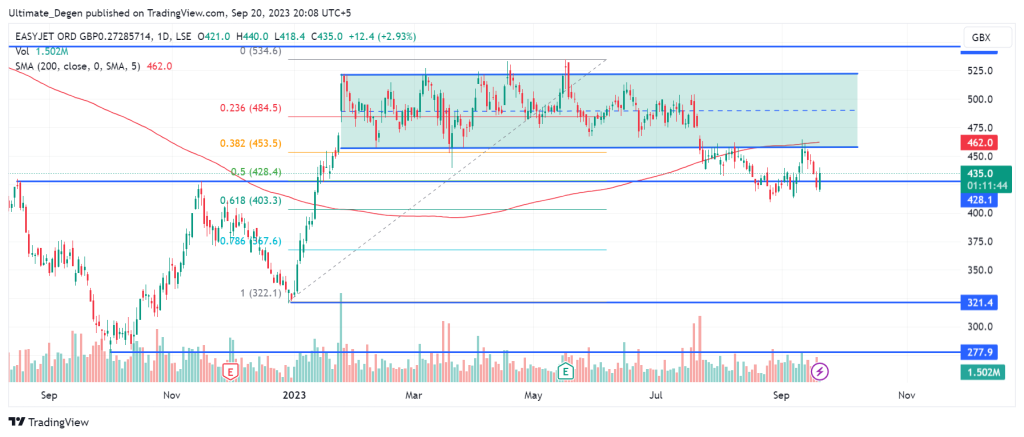 easyJet To Adopt Hydrogen Fuel In The Future
Airbus, Rolls Royce, and easyJet have recently joined hands to form an Aviation Alliance that plans to use Hydrogen as fuel. This move is in line with the zero emissions target of the aviation sector, which is expected to be met by 2050. The alliance will work in close coordination with regulatory authorities and the government to set the stage for the hydrogen-powered airplanes.
In other news, the British banker Barclays announced a cut in the price target for easyJet share price. The bank lowered it from £6.2 to £5.5 while maintaining its "overweight" rating. The share price currently sits 17.8% below its yearly high.
In the meantime, I'll keep sharing the updated easyJet forecast and my personal trades on my Twitter, where you are welcome to follow me.